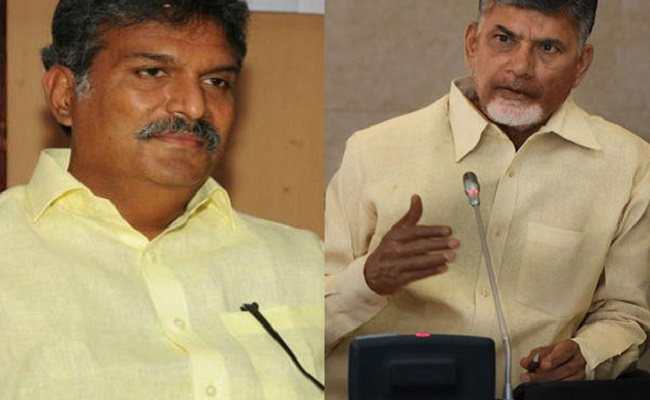 At a time when everybody thought the ever-sulking Telugu Desam Party leader and Vijayawada MP Kesineni Srinivas alias Nani has patched up with party president N Chandrababu Naidu, it appears he is still angry with the boss.
On Saturday, when Naidu went to New Delhi to take part in the national committee meeting of Azadi Ka Amrut Mahotsav to be chaired by Prime Minister Narendra Modi, all the party leaders in Delhi, including the MPs, went to the airport to receive him.
Along with the other three TDP MPs – K Rammohan Naidu, Galla Jayadev and Kanakamedala Ravindra Kumar, the Vijayawada MP, too, went to the airport, to accord welcome to the party president.
When Naidu came out of the airport, the three MPs welcomed him with bouquets, but Kesineni refused to give it.
When Galla Jayadev handed a bouquet to Kesineni and asked him to give to Naidu, Kesineni did not take it and turned his head away.
He did not even evince interest going anywhere nearer to Chandrababu Naidu. Apparently, Kesineni went to airport only to register his protest and express his anger to Naidu, but not to greet the party president.
Video of Jayadev requesting Kesineni to give bouquet to Naidu and wish him, but the Vijayawada MP refusing to do so went viral in the social media. This led to the talk in the party as to what went wrong between Jayadev and Naidu once again.
It was only last week that Naidu went to the engagement function of Kesineni's daughter and spent considerable time there.
Both of them exchanged pleasantries. Even when Naidu went on a tour to the flood-affected areas from Vijayawada, Kesineni made huge arrangement to welcome Naidu at the airport.
But somehow, all appears to be still not well between Kesineni and Naidu, as the MP still suspects that Naidu is encouraging his younger brother Kesineni Chinni against him.
He also believes that Naidu was behind Chinni's meeting with Vangaveeti Radhakrishna a few days ago.
So, the TDP MP is said to be preparing ground to quit the party sooner or later.
"It is clearly evident from Kesineni's behaviour that he may not continue in the party for long. He has not disclosed his plans yet, either directly or indirectly," sources said.