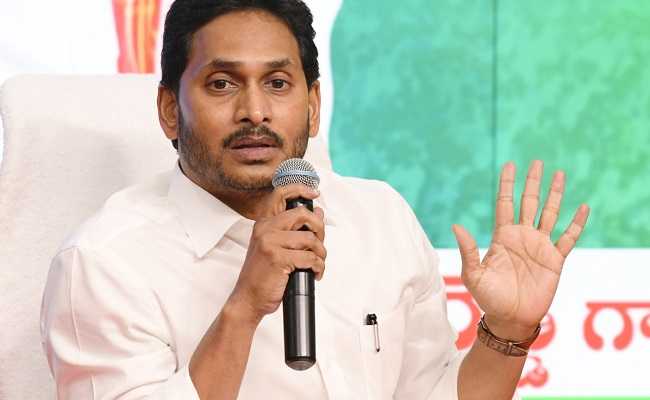 If YSR Congress party president and Andhra Pradesh chief minister Y S Jagan Mohan Reddy has his way, at least one-third of his party MLAs, including a few ministers, may have to face the axe during the distribution of party tickets in the next assembly elections.
According to sources, Jagan, who held a review meeting of the party position at the Gadapa Gadapaku Mana Prabhutvam workshop held at Tadepalli on Friday, disclosed the details of the survey conducted by Indian Political Action Committee (I-PAC) team on the performance of the MLAs.
It is learnt the survey indicated that at least 32 MLAs, including ministers, have shown poor performance and they have bleak chances of winning their seats again if they don't improve their performance in the next one year.
The list of non-performers or poor performers includes ministers like Gummanuru Jayaram, Vidadala Rajini, Jogi Ramesh, Seediri Appala Raju and Gudivada Amarnath.
Apparently, Jagan sounded a warning to these 32 MLAs and ministers to change their style of functioning.
He said he would conduct another workshop in March and if they don't improve their performance, they would not be given the party tickets again.
He also reportedly declared that he would come up with the list of YSRC candidates in the next workshop. So, the next 100 days would be crucial to the party and their future would depend on their performance, he said.
An official note from the party, however, said Jagan complimented many MLAs for working extremely hard on ground and overachieving given targets.
As against the target of covering 2,600 village and ward secretariats, the MLAs were able to cover over 2700 village/ward secretariats
The chief minister appreciated the efforts made by every MLA and asked them to touch every person in every household and ensure that there is speedy resolution of problems.