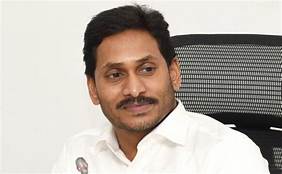 Notwithstanding the decision taken by the neighbouring Telangana government led by chief minister K Chandrasekhar Rao and other state governments to do away with Class 10 examinations in their respective states, the Andhra Pradesh government led by Y S Jagan Mohan Reddy has decided to go ahead with the examinations.
State education minister Adimulapu Suresh has made it clear that there is no question of either postponing or cancelling the Class 10 examinations in Andhra Pradesh, despite the Coronavirus pandemic prevailing in the state.
"We shall not go by the decision taken by other states like Tamil Nadu, Pondicherry and Telangana cancelling the Class 10 exams. We shall go ahead with the examinations as scheduled earlier," Suresh said.
As per the schedule, the 10th class examinations will be held from July 10 at any cost. However, the number of papers would be reduced from 11 to 10.
"We don't want to create any confusion among the students and we also want the media not to confuse them with various speculations," the minister said.
He said sufficient care would be taken for implementation of central guidelines in conducting the examinations to prevent spread of the Coronavirus among the students.
Steps would be taken to ensure proper health for even teachers and invigilators, he said.