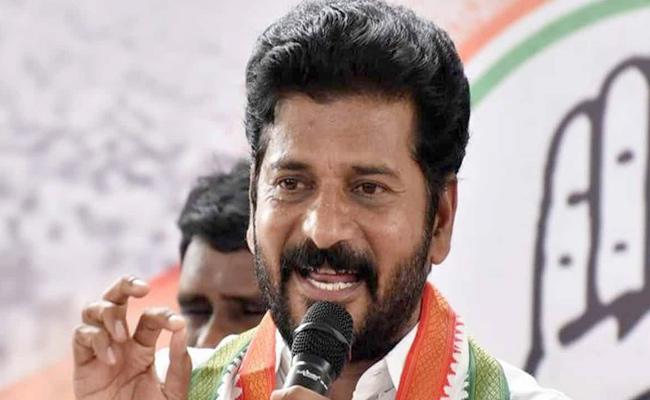 The house-arrest of Telangana Pradesh Congress Committee (TPCC) president A Revanth Reddy for the second time in the week, for trying to stage a Rachabanda on paddy procurement issue, triggered uproar in the Congress.
Revanth Reddy was planning to go to Mahabubabad to call on the family of a teacher who died of heart attack after being abruptly transferred to Mulugu as part of the ongoing transfers post-introduction of zonal system.
Later, he was to go to Bhupalpally to participate in "Rachabanda" programme to interact with farmers facing problems due to delay in paddy procurement by the state government.
But even before he made any such attempt, the police surrounded his house at Jubilee Hills and kept him under house-arrest. The police said there was no permission for the programme.
Revanth Reddy took to Twitter to slam the Telangana Rashtra Samithi (TRS) government. He posted a video of the policemen deployed around his house restricting his movements.
"Telangana under dictator rulea Police personnel deployed again at my house restricting from visiting farmers. Is this Afghanistan or North Koreaa?," he asked.
The TPCC president wondered if consoling the farmers was a crime.
"Chief minister K Chandrasekhar Rao is spending hours at the houses of ministers and MLAs to attend marriages or to consoling them but he has no time for paddy and chilli farmers who are suffering. And when we want to console them, we are kept under house arrest," he said.
This was the second time this week that Revanth Reddy was prevented from participating in Rachabanda.
On December 27, he was arrested here on Monday as he was leaving for Erravalli village to lead a protest at the farmhouse of the chief minister.
Revanth Reddy called upon the Congress workers to stop KCR's son K T Rama Rao and other TRS ministers from going to any place to participate in the party or official programmes.
"When the police can stop us from going, why should they be allowed? Our party workers also would stop them," he said.
He even announced that the Congress workers would court arrest in thousands, if the police prevent them from obstructing the TRS leaders.