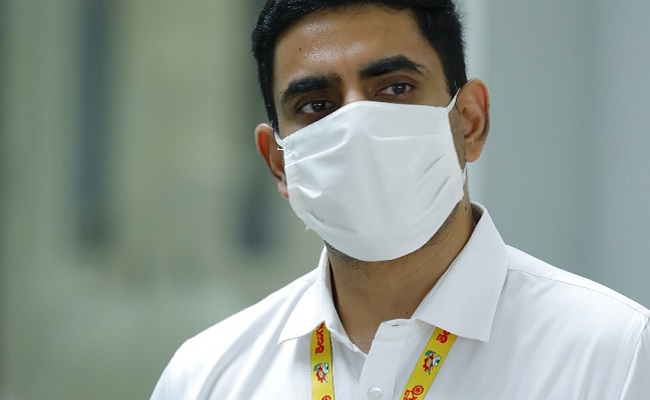 "Ekkada neggalo kaadu, ekkada taggalo telisinavade nijamaina manishi.." (A true man is one who knows where to lie low, not where to win) goes the Trivikram dialogue in his blockbuster film "Attarintiki Daaredi" starring power star Pawan Kalyan.
Telugu Desam Party general secretary and former Andhra Pradesh minister Nara Lokesh, son of party president N Chandrababu Naidu, seems to have understood it in a different way and has exactly followed this dialogue.
Lokesh could not win the assembly elections from Mangalagiri constituency in Guntur district last year. In the first few months after his loss, he had hardly anything to go into the people and put on a lot of weight.
But in the last two months of his stay in Hyderabad on account of lockdown to contain the spread of dreaded Coronavirus, Lokesh spent a lot of time doing physical exercises in his personal gym, cycling on the Jubilee Hills roads along with his son Devansh and might have cut down junk food.
Naturally, the young TDP leader became very slim and trim during the lockdown period. So, when he came to the TDP state headquarters at Mangalagiri in Guntur district on Wednesday to take part in the party's biennial conclave Mahanadu conducted by his father through Zoom application, everybody was surprised.
The slim look of Lokesh was the star attraction at Mahanadu. Some referred to him as Lokesh 2.0. Many enquired him about the secret of his success in becoming slim and he reportedly shared many things with them.
Some enthusiastic TDP activists went on to tweet: #BossNewlook, recalling the dialogue of Trivikram: "Ekkada Neggalo Kaadu, Ekkada Taggalo Telisinavaadu Maa Annayya Lokesh."
The netizens are now laughing at this tweet.
"Perhaps that is how Lokesh and his followers understood the famous dialogue of Trivikram. Lokesh does not know where to win, but at least he knows how to become slim," a political observer commented.
CLICK HERE!! For the In Depth Updates on all the OTT Content