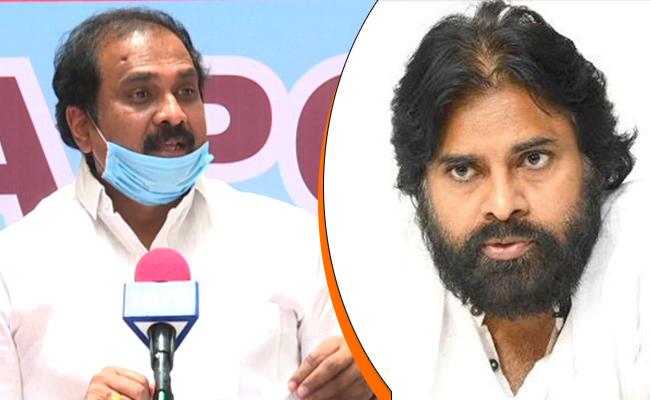 Power star and Jana Sena Party chief Pawan Kalya's outburst against YSRCP president and Andhra Pradesh CM Y S Jagan Mohan Reddy on the implementation of his latest scheme – Kapu Nestham has evoked strong reaction from the Kapu leaders of the YSRC.
Prominent Kapu leader and agriculture minister K Kanna Babu came down heavily on Pawan Kalyan to find fault with the government at a time all the community people are appreciating the scheme in which each poor Kapu beneficiary would get a direct cash transfer of Rs 15,000 per year.
It may be mentioned that Pawan Kalyan criticised the Jagan government for publicising allocation of Rs 4,770 crore to the Andhra Pradesh State Kapu Welfare and Development Corporation.
"The chief minister conveniently diverted the attention of Kapus from their main demand for reservations by highlighting allocation of more funds to them," he slammed.
He faulted the YSRCP government for identifying only 2.35 lakh beneficiaries for the YSR Kapu Nestham and demanded a white paper on funds allocated to various welfare corporations.
Kanna Babu wondered why Pawan Kalyan had not made a similar attack on former chief minister and Telugu Desam Party president N Chandrababu Naidu who had betrayed the Kapu community on the reservations issue and had not spent a single paisa on Kapu welfare.
"In the eyes of Pawan Kalyan, Chandrababu Naidu is a great reformer of the world, while Jagan who is financially helping Kapus is a villain. He is not able to hide his affection towards the TDP president," Kanna Babu alleged.
He wondered why Pawan had not uttered a word against Naidu who had made his party leaders abuse Mudragada Padmanabham in vulgar language and crushed the Kapu movement with iron hand.
"You have given him support to the TDP as if Naidu was a great leader," the minister said.
Kanna Babu also lashed out at Pawan Kalyan for calling the chief minister as Jagan Reddy.
"You are the one who is encouraging casteism. When Naidu had divided the people on caste basis, you haven't said anything," he said.
CLICK HERE!! For the In Depth Updates on all the OTT Content