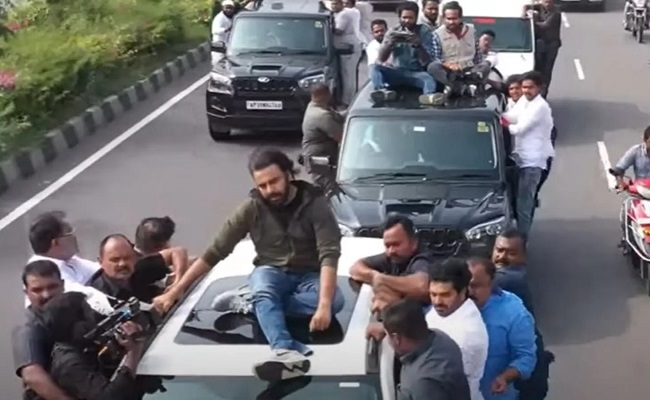 Jana Sena chief Pawan Kalyan had visited the Ippatam village the other day to meet the house owners whose compound walls were demolished by the government for road widening.
He broke the police barricades and barged into the village challenging both the police and the state government.
He dared the ruling YSR Congress leadership to arrest him it they had guts and gave a call to the people to pull down the government for bulldozing the compound walls and sheds in the Ippatam village.
In the process, the angry Pawan Kalyan sat on the top of his vehicle and travelled at high speed with his party cadre following him all along.
The local media projected the Jana Sena chief as hero with his angry punch dialogues and ignored his travel on the top of the vehicle against the law of the land.
But the national media took it up and gave a dressing down to the Jana Sena chief in its news bulletins.
Several national media channels have raised the issue and questioned the action of the Jana Sena chief in travelling on the top of the vehicle.
The national media also questioned the Jana Sena chief for the message that he was intended to send to the people through his travel on the top of the vehicle.
The national media channels have also asked the state government whether a case was booked against Pawan Kalyan for the violation of the law.
However, there is absolute silence both from the government side and the Jana Sena side as well.