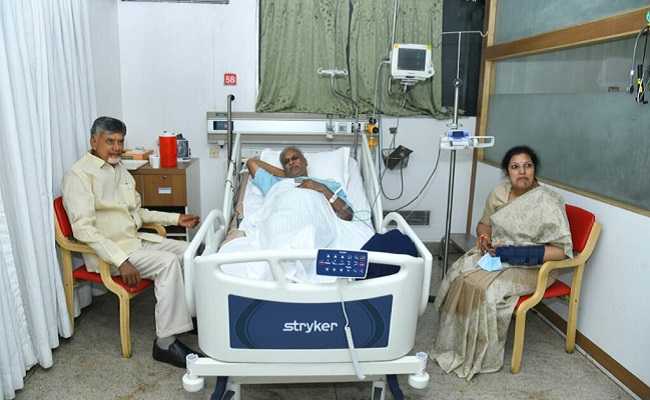 There is a proverb in Telugu: "andithe juttu, andaka pothe kaallu.." (If you can reach out to a person, you will hold his hair; if you can't, you won't hesitate to touch his feet).
This probably applies to Telugu Desam Party president and former Andhra Pradesh chief minister N Chandrababu Naidu.
Nobody knows better than Naidu how to make use of people to climb up the ladder and then dump the same people who helped him.
But if he needs their help again, he won't hesitate to set aside all his ego and approach them without any hesitation and appease them with his courteous talk.
That is what the TDP chief had done with his co-son-in-law Daggubati Venkateshwara Rao and sister-in-law Purandershwari.
On Tuesday, Naidu went to Apollo Hospitals at Jubilee Hills in Hyderabad to call on Daggubati, who got admitted there with a heart-attack and underwent angioplasty.
Naidu, who had not been in talking terms with Daggubati and Purandeshwari for quite some time till recently, went all the way to the hospital and spent considerable time talking to the couple.
He enquired about Daggubati's health and wished him speedy recovery. He also spoke to the doctors and asked them to take care of his co-son-in-law.
Those who had been tracking Naidu's growth in politics still remember how he used Daggubati and other family members to dethrone his father-in-law N T Rama Rao from power in August 1995 to become the chief minister of the state.
At that time, he promised that Daggubati would be made his deputy or given a prominent position in the party, but after ascending the throne, he dumped his co-son-in-law. Daggubati returned to NTR's fold and later backed Lakshmi Parvathi.
Since then, the couple turned a bitter critic of Naidu and the latter, too, had kept them at bay. Daggubati failed to prove himself a strong leader, but he wrote a book exposing the dirty politicking of Naidu.
Purandeshwari, however, proved her mettle as a leader; she became the Union minister and is now a key leader in the Bharatiya Janata Party.
Similarly, Naidu played the same use-and-throw politics with his elder brother-in-law Nandamuri Harikrishna and the latter's son Junior N T Rama Rao.
After coming to power in 2014 elections in residuary AP, too, he did not entertain any of them, except of course Nandamuri Balakrishna as the latter happens to be father-in-law of his son Nara Lokesh.
After losing power to YSR Congress party in 2019, Naidu realised the importance of NTR family members.
He is now trying to be friendly with all family members and during the last year's ugly episode of breaking down before the media for alleged insult to his wife, he tried to gain sympathy from NTR family members.
Now, by calling on Daggubati and exchanging pleasantries with Purandeshwari, he is trying to send a message that the NTR and Nara families are united!