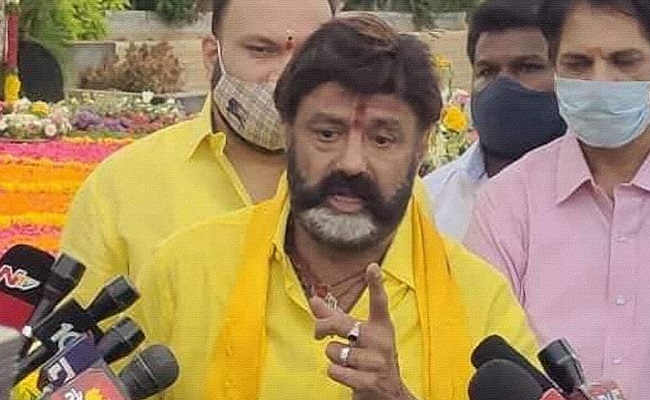 Senior Tollywood actor and Telugu Desam Party legislator Nandamuri Balakrishna has earned the notoriety of being a part-time politician. Acting in films has been his top priority and he hardly evinces any interest in politics.
But being an MLA of the opposition party, Balakrishna has to nurture his constituency if he has to win at least his assembly seat from Hindupur in Anantapur district, if not fetching victory for his party in the next assembly elections.
So, he has to visit his constituency quite often, so that people should not feel let down by him.
He recently announced that he would focus on politics soon after the completion of his shooting for Akhanda, being directed by Boyapati Srinu.
But soon after the shooting is over, Balakrishna announced that he would soon begin the shooting for two more films.
It has come as a disappointment to the people of his constituency, who have been hoping to see him and represent their issues.
At last, Balakrishna found some time to visit Hindupur constituency on Sunday.
He attended a convention organised by Rayalaseema TDP leaders at Hindupur to discuss the injustice done to Rayalaseema on Krishna water utilisation.
As usual, the senior actor chose the occasion to launch a tirade against the Jagan Mohan Reddy government.
He alleged that the present government had no interest in releasing water to the Rayalaseema through Handri-Neeva project, which was taken up by his father late N T Rama Rao.
He said the latest decision of the Centre to take over the irrigation projects on Krishna river would harm the interests of Rayalaseema.
"If necessary, I will not hesitate to go to Delhi and fight with the Centre against the injustice meted out to Rayalaseema," Balakrishna asserted.
He also demanded that the Centre should allocate not surplus water, but assured water to the irrigation projects of Rayalaseema. He demanded revival of the inter-linking of river waters to secure additional water to Rayalaseema.
It is good that Balakrishna has at last raised his voice for Rayalaseema, if not for just Hindupur. But he has to sustain his political activity and should not become a visiting professor for Rayalaseema!