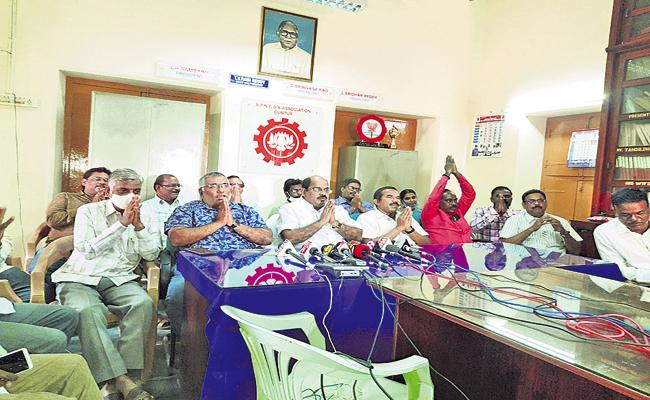 The war is getting intensified in Andhra Pradesh generating greater heat in this cold season.
The visible war between the State Election Commissioner Nimmagadda Ramesh Kumar and the state government is now taking new twists and turns.
The government employees have now joined the battle strengthening the hands of the state government and weakening the SEC.
As the SEC announced the election schedule for the gram panchayat elections in the state, the state government had expressed its inability to shoulder the responsibility fearing Covid 19 and the preoccupation of covid vaccine distribution.
Chief Secretary Adityanath Das had categorically said that the government is not prepared to engage the staff in elections as the vaccine schedule is released by the Central government.
Even the issue is to be resolved between the SEC and the government, the employees have joined the row openly expressing their opposition to the elections.
The employees said that they would not be able to participate in elections for two reasons – the covid19 vaccination and the covid 19 threat.
As it appears, the employees might also join the legal battle, if required, which might drag the issue to the disadvantage of the SEC. If not, it would be to the disadvantage of the government which is not prepared for any election under this SEC, Nimmagadda Ramesh Kumar.
The SEC had on Sunday gave an assurance to the employees that it would supply PPE kit to every election staff member and tried to allay their fears.
But, the employees rejected this offer too and wanted the SEC to give them a written assurance that there would be no death of any employee in the election process, due to covid 19.
The joint action committee of the employees on Monday rejected the SEC's offer and remained firm on not participating in the election process.
This would make the issue further complicated and one wonders what the SEC or even the courts do when the employees in total refuse to take part in the elections.
While Nimmagadda made a surprising hit on the state government by announcing the schedule only for the Gram Panchayats, keeping aside the MPTC and ZPTC elections, which were stopped midway in March 2020, the state government had turned the tables on the SEC by roping in the employees.
It is now to be seen what move the SEC would make and what decision the court would take.
Click Here for Latest Direct-to-OTT Releases (List Updates Daily)