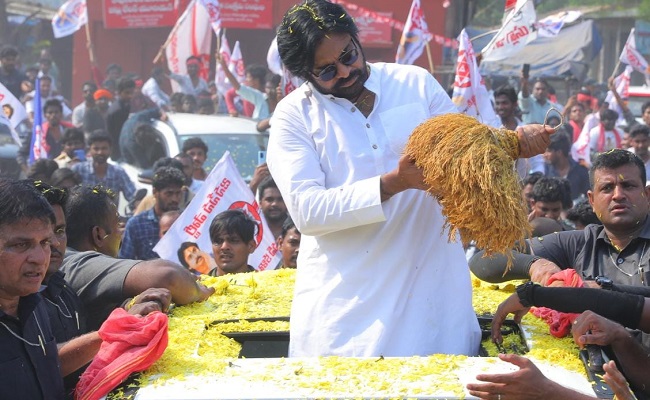 On Wednesday, Jana Sena chief Pawan Kalyan visited Kadiyam in the undivided East Godavari district.
He interacted with farmers whose crops were damaged in the recent untimely rains and inspected the damaged crops and fields. He also enquired about the government's support for crop losses.
Earlier in the morning, he was given a rousing reception by party cadres at the Rajamahendravaram airport.
Pawan Kalyan has been busy with his films for the past couple of weeks, which has made him unavailable to party workers.
Although he had promised to build unity among opposition parties, he has yet to take any concrete steps in this regard.
He is in regular contact only with the TDP and its president, N Chandrababu Naidu. Sources suggest that he is not even in touch with BJP leaders.
The two Communist parties are not interested in alliance talks with Pawan Kalyan as they feel betrayed by him after the 2019 general election.
In that election, he formed an alliance with the two Communist parties and the BSP but later left them to restore his alliance with the BJP. Even though he is now talking about unity among opposition parties, the Left parties do not take him seriously.
There is also uncertainty within Pawan Kalyan's own party about its alliance for the next election, and his leadership is being questioned as he spends more time shooting films than engaging in political activities.