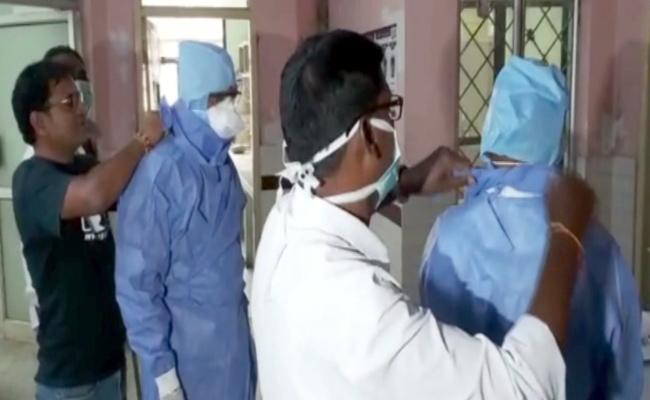 Two more people died of Coronavirus in Andhra Pradesh and one in Telangana on Thursday, taking the total toll due to the dreaded virus in the two states to six and 12 respectively.
A bulletin from the Andhra Pradesh medical and health department said 15 new positive cases were reported since morning, including 11 in Prakasam, two in Guntur and one each in East Godavari and Kadapa districts, taking the cumulative number of positive cases in the state to 375, including six deaths and 10 recovered patients.
Of the two persons reported dead, one was a 70-year old patient from Manurevu village of Anantapur district and another was a 45-year old man from S R Pet in Guntur district.
"One patient from Srikalahasti town in Chittoor district got discharged after complete recovery taking the overall number of discharged patients to 10," the bulletin said.
Meanwhile, Telangana health minister Eatala Rajender said the state had reported 471 positive cases for Covid-19, including 18 fresh cases on Thursday.
In all, 665 samples were tested in the last 24 hours and only 18 tested positive. So far, 45 people were discharged after recovery from the disease till now, he said.
He expressed hope that there might not be any fresh admission of patients with Covid-19 symptoms into the hospitals from Friday.
The tests on Markaz returnees and their primary contacts had been done. Similarly, all the foreign returnees and their primary contacts had undergone the tests.
As many as 414 patients are under treatment at Gandhi Hospital in Hyderabad. If there are no more positive cases, we hope all those who are being treated in the hospitals would get discharged by April 22, he said.