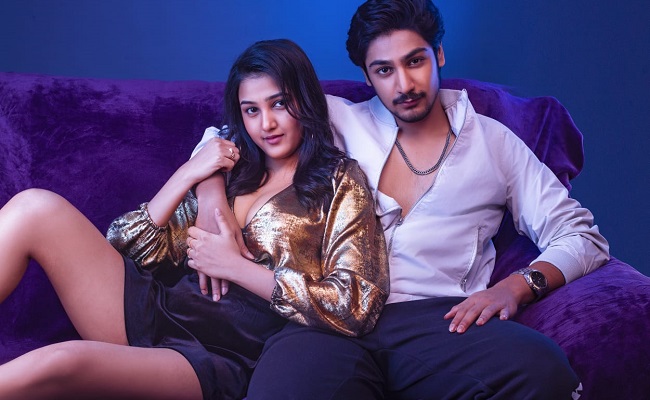 Movie: Virgin Story
Rating: 1.5/5
Banner: Ramalakshmi Cine Creations
Cast: Vikram Saahidev, Sowmika Pandiyan, Rishika Khanna, and others
Music: Achu Rajamani
Director of Photography: Aneesh Trun Kumar
Editor: Garry
Producer: Lagadapati Sirisha Sreedhar
Written and Directed by: Pradeep B Atluri
Release Date: Feb 18, 2022
Producer Lagadapati Sreedhar's son Vikram Saahidev has recently appeared as a second lead in 'Rowdy Boys'. 'Virgin Story' marks his debut as a full-length hero.
Let's find out whether the film is fresh as the title suggests.
Story:
The best way to take revenge on the boyfriend who cheats is having a one-night stand with a random guy!
A friend tells Anushka (Soumika) as such. So, she heads to a pub and picks a loser-kind of guy Vikram aka Virat (Vikram Saahidev) to do it with him that night. But the night offers them crazy experiences as they scout for a place to have sex.
Will they make it out on that night? Will they break their rule of 'no emotions'?
Artistes' Performances:
Vikram Saahidhev has already acted in a couple of films, and he knows well to carry himself off. As a contemporary youngster, he fits the bill. Vikram Saahidhev plays the role sincerely, though it is a typical role.
Newcomer Sowmika Pandiyan hardly makes an impression. A plethora of comedians appear, but none of them make any impact.
Technical Excellence:
Achu Rajamani has provided two peppy numbers. "Manasa Lede Ninnala Ee Roje" (this one is particularly good) and "Baby I'm In Love" stand out.
Cinematography and production values are decent.
Highlights:
Manasa Lede Ninnala song
A couple of moments
Drawback:
Weak direction
Lack of interesting scenes
No emotional core
Romantic scenes are pale
Analysis
The single line of "Virgin Story" is two youngsters struggling to find a place to have a one-night stand. As is the story, the majority of the film takes place at night. The youngster's attempts to have sex are not at all romantic. Nor do they evoke laughs.
In the entire first half of the film, we see only the boy and girl going from a lodge to a hotel to a scary house. The director must have thought that they were comedy scenes. But the so-called funny scenes are more exasperating than entertaining.
The girl wanted to try it out with a guy and forget it the next day. So, they decide not to know their names, take each other's numbers, or develop emotions. We all know how the film would end despite their rule of "No Names, No Emotions."
There is no surprise about the climax. When you pick up such a story, the writers and director should focus on the screenplay and scenes. But "Virgin Story" falters on this front.
One mad night turns out to be a never-ending and boring night. The predictable comedy scenes on the night such as a hotel manager making comedy in the name of showing rooms, a police officer creating a scene with the couple, etc keep coming. They have not helped the proceedings at all.
When you pick a youthful and contemporary point (one-night stand), why narrate it with old and formulaic scenes? The film also shows the romance between two lesbians with little understanding. A middle-aged woman's episode with an auto driver is another silly track.
The best part of this movie is the short runtime and two songs.
All in all, 'Virgin Story' deals with contemporary themes but narrates it in a routine and dull manner. As the lead pair faces many hurdles for the nightstand and their problems prolong, our patience levels dip.
Bottom line: No Emotion, No Grip