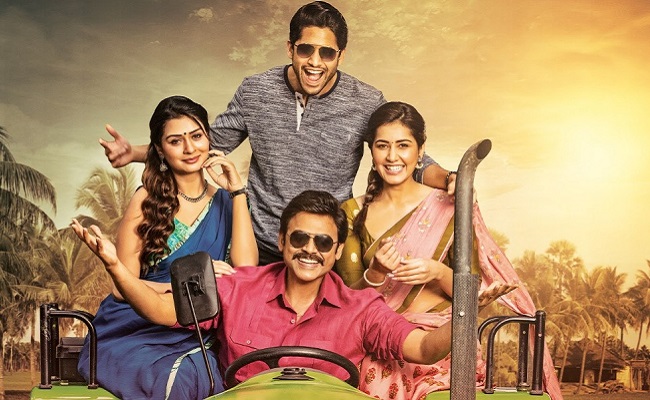 Movie: Venky Mama
Rating: 2.5/5
Banner: Suresh Productions
Cast: Venkatesh, Naga Chaitanya, Paayal, Raashi Khanna, Nasser, Prakash Raj, and others
Music: SS Thaman
Cinematography: Prasad Murella
Editing: Prawin Pudi
Producer: D Suresh Babu, Vishwaprasad
Written and directed by KS Ravindra (Bobby)
Release date: December 13, 2019
Venkatesh Daggubati and Naga Chaitanya Akkineni, real life uncle and nephew – have acted together reprising the same roles on screen. Naturally, their combination in 'Venky Mama' has generated a huge buzz.
Let's find out whether the film reaches the expectations.
Story:
Rama Narayana (Nasser), a strong believer in astrology, warns his daughter not to marry her lover as they would be killed within a year of their marriage as per their horoscope. It turns out to be true, they are killed in an accident leaving their one-year-old son in the lurch.
Rama Narayana's son Venkata Ratnam Naidu (Venkatesh) brings his nephew Karthik (Naga Chaitanya) to their home much against his father's warning that this child also would bring death to his maternal uncle.
Venkata Ratnam Naidu rubbishes his father's theory as silly and raises Karthik as his son. Karthik is now in his early 20's, while Venky Mama remains a bachelor.
Will destiny catch up with them now?
Artistes' Performances:
Showing his great form, Venkatesh has maintained the same live-wire antics. His comedy has worked well and his sentiment sequences are good.
Naga Chaitanya as his doting nephew is okay, but his military getup is odd. Paayal Rajput seems right Jodi for senior star Venkatesh.
Raashi Khanna has nothing much to do here other than being a regular heroine. Rao Ramesh, Prakash Raj, and others are okay. Hyper Adhi's comedy is good.
Technical Excellence:
Thaman has given a couple of catchy songs that are plus point for the film. Murella's camera has lent richness to the frames. Especially the Kashmir sequences are top-class. Editing is neat and artwork is decent.
Highlights:
Venkatesh's performance
Scenes between Venky and Chaitanya
A couple of comedy scenes
Drawback:
The military-terrorist portion
Predictable narration
Unconvincing final sequences
Analysis
Before entering the theatres, audiences would be prepared to see that the film would mainly focus on the bonding and chemistry of Venkatesh and Naga Chaitanya, the real-life mama-alludu. Director Bobby is clear about this and he has written a story keeping them in the mind.
However, he has written a wafer-thin formulaic story that has limited strengths. Knowing well that the story would not entice the audiences, he wrote the screenplay in a way that the main strength of Venky and Chaitanya's chemistry gets elevated. It did indeed to some extent.
The first half of the film is wrapped in this fashion highlighting fun banter between mama and alludu, deriving humor out of Venky's old-bachelor image, some regular rural comedy.
While the comedy scenes like Vidyullekha trying to capture the villagers doing their morning ablutions is in poor-taste, the comedy involving Payal, Chaitanya and Hyper Aadhi are funny.
After establishing the fact that Venkatesh will have a mruthyu gandam from his nephew at the very beginning of the story, the movie doesn't have much content to sustain the interest further.
To bring a new angle to his predictable story, Bobby has added a military-terrorist angle and this part has derailed the movie. Not only this part defies the logic, but it also is out of sync with the main story thematically.
Instead of adding military-angle, the director should have fixed to the regular pattern of mama-alludu chemistry and coat with entertainment. The final portions are even worse.
All in all, 'Venky Mama' begins well and establishes super chemistry between the uncle-nephew duo Venkatesh and Naga Chaitanya, and provides some decent entertainment in the beginning but goes haywire later.
Bottom-line: Half-Cooked