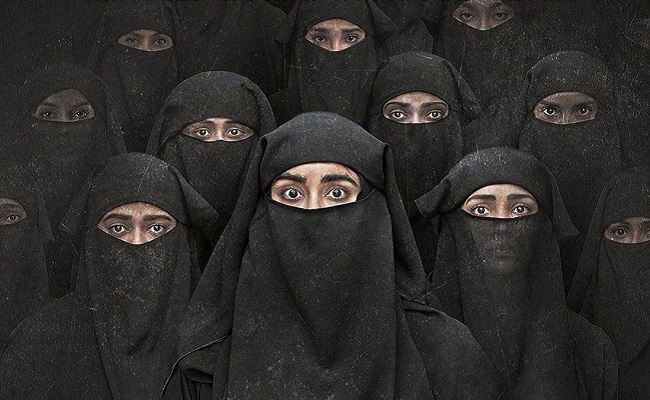 Film: The Kerala Story
Rating: 3/5
Cast: Adah Sharma, Yogita Bihani, Sonia Balani, Siddhi Idnani, Devadarshini, Vijay Krishna, Pranay Pachauri, Pranav Misshra etc
Editing: Sanjay Sharma
Music: Viresh Sreevalsa, Bisakh Jyoti
Producer: Vipul Amrutlal Shah
Director: Sudipto Sen
Release Date: 5 May 2023
The film 'The Kashmir Files' made waves at the national box office in 2022, and now 'The Kerala Story' has taken the spotlight. The film is controversial and sensitive in nature, and the trailer alone has caused tremors among many.
It was believed that the film would never see the light of day, but it was eventually released. It was screened in many theaters with police protection to prevent any unforeseen circumstances.
Story:
The story revolves around Shalini Unnikrishnan (Adah Sharma), Nimah (Yogita Bihani), and Siddhi Idnani (Geetanjali), who share their room with Asifa (Sonia Balani) in a nursing college in Kasargod, Kerala.
The other three are unaware that Asifa is an aide to ISIS and that her mission is to indoctrinate and brainwash non-Muslim girls and convert them to Islam. She plants two Muslim young men who pretend to be college students and get close to Shalini and Geetanjali as part of a Love Jihad ploy.
In the process, Shalini becomes pregnant with Rameez, who poses as a medical college student. To marry her, he demands that she convert to Islam, but he abandons her. Another man named Ishaq enters the scene and marries her after converting and renaming her Fathima.
The mission is to take her to Syria as a sex slave. The ordeals faced by her and the plight of Geetanjali and Nimah in the hands of Muslim Jihadists form the rest of the story.
Artistes' Performances:
Adah Sharma's performance as Shalini Unnikrishnan is like award-winning. She maintained her Hindi and English diction that suited an innocent Keralite, and she followed method acting in her way.
Siddhi as Geetanjali was perfect, and Sonia as Asifa excelled in a dual-shade performance.
Yogita Bihani had some good parts to play in the last act of the film.
Devadarshini appeared as Adah's mother and had some scenes worth mentioning.
Vijay Krishna, Pranav Mishra, and Pranay Pachauri did their part in menacing roles.
Technical Excellence:
The film's locations and cinematography were convincing and deserve praise.
Editing was crisp, and the back-and-forth narration kept the film engaging.
Production values were adequate. The music and lyrics deserve maximum marks as every line made sense and sounded catchy. The background score was also impressive.
Highlights:
Adah Sharm
Music and lyrics
Dialogues
Direction
Locations
Drabacks:
Too much of violence and rape
Analysis:
The film is not for all communities in India. In theaters, only a particular community came in majority, evident through their unanimous claps and shouts for some biased dialogues.
This is the boldest attempt after 'The Kashmir Files.' As per the end credits, the film tries to address the 32,000 Non-Muslim Indian girls from Kerala who were brainwashed, converted, impregnated, sent to terror camps, raped, and ended up as sex slaves in ISIS camps in Syria and Afghanistan.
Assuming it to be a mere work of fiction, just before the end credits, the film producers showed several testimonials to convince the viewers that it is a real happening and not fiction. Real-life victims shown in the film as characters appeared on the screen, making the watching experience more poignant.
The scenes involving rape, beheading, chopping of hands, and violence against women make it an 'Adults Only' film. It's a film against 'Love Jihad.' Many dialogues relate to religion and leave the audience in laughs and thought-provoking moments.
When her husband says that a mobile phone is forbidden in Sharia law, the wife asks, "When Sharia Law was written, the mobile phone was not invented. How can it be banned?" This dialogue brought some laughs in the theatre.
As part of brainwashing a Christian girl Nimah, the jihadist Asifa says, "Your God's son was tortured and nailed on a Cross, but even then God couldn't save him. How can he save you when he couldn't save his own son?"
One thing needs to be emphasized here. The film didn't portray Islam in a bad light. The makers have shown their respect for Islam with a line in one of the lyrics, "Jhooti tasveer dikhaake majhab hi kambakt insa badal daalaa" (showing the wrong picture of religion, it's unfortunate that man has changed).
But the makers didn't have taken time to explain the true picture of Islam, like what Ram Gopal Varma tried to show as Nana Patekar's long dialogue in the film 26/11 about Jihad.
'The Kerala Story' deserves a watch by all those who liked 'The Kashmir Files'. It's made in a bold and uncompromising manner, and all the artists looked so convincing, offering a realistic experience.
Bottomline: Only for strong hearts