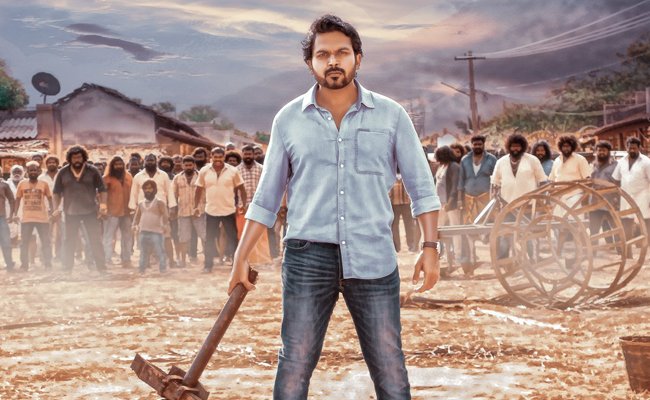 Movie: Sulthan
Rating: 2.25/5
Banner: Dream Warrior Pictures
Cast: Karthi, Rashmika Mandanna, Napoleon, Lal, Yogi Babu, and others
Music: Vivek Mervin
Cinematography: Sathyan Sooryan
Editor: Ruben
Producers: SR Prakash Babu, SR Prabhu
Direction: Bakkiyaraj Kannan
Release Date: April 2, 2021
The successes of "Khaki" and "Khaidi" has made the Telugu audiences watch out for Karthi's latest release again.
The trailer of "Sulthan" didn't excite anyone but the presence of Rashmika Mandanna as the heroine has gained attention. Let's analyze.
Story:
Working as a Robotics Engineer in Mumbai, Sulthan (Karthi) leads a peaceful life, unlike his father (Napoleon), who is a gangster in Vizag. Sulthan is raised by Mansoor (Lal) and 100 rowdies.
After his father's death, Sulthan decides to reform his rowdy brothers and also decides to save a village's lands from being taken by a corporate company.
What obstacles he would face?
Artistes' Performances:
Karthi has played to the gallery. It is a typical mass role and a cakewalk for him. Rashmika Mandanna is completely wasted in the film.
Napolean as Karthi's father and Lal as a foster-father have played their roles effectively. The two villains – Nawab Shah and KGF Ramachandra Raju have got to play weak roles. Yogi Babu's comedy is okay.
Technical Excellence:
The film is lavishly shot, but it doesn't boast top-class technical output. Vivek Mervin's songs are dull. None leave any impression.
Cinematographer Sathyan Suryan (Khaki and Khaidi) seems to have developed a penchant for filming action and chase scenes with vehicles in the night effect.
The film is lengthy, needs to be trimmed a lot, especially the portions in the second half. Dialogues are okay.
Highlights:
The basic idea
Interval bang
Initial sequences
Drawback:
Weak villains
Boring romantic track
The farming sequences post-interval
Analysis:
Karthi's 'Sulthan' is like watching two films on one ticket. The first half of the movie and the post-interval deal with two different conflicts and points. It begins like giving a new twist to mythology, which sounds quite interesting.
The hero is born and raised in a gangster's family. His father has 100 henchmen who live by the sword. They raise Sulthan as their brother.
The first half then establishes it as a story of an alternative theme from Mahabharat. That is about what if Krishna stands with the 100 Kouravas and tries to reform them. The 100 Kouravas and Krishna reforming them sound exciting.
No wonder that despite the regular commercial format, the first half of the film holds interest. The masala moments in the first half, especially the pre-interval episode, are quite satisfying.
But in the second half, the gears are switched. It is then becoming a fight of a hero saving a village's lands from a corporate villain who is planning to grab the lands for setting up an Iron ore factory. And suddenly, the hero comes up with the idea of making the rowdies into farmers to save the lands.
Soon, the story turns into overt masala khichdi – a fight for lands, the importance of farming, reforming the rowdies, and winning the love. Too many formulaic scenes are mixed in the second half.
Added to that, the villains, be it corporate guy (Nawab Shah), or village baddie (Ramachandra Raju), or one of the rowdies who is consumed by jealousy, are one-dimensional characters. After so much hullaballoo, the film's resolution is too simplistic.
For Telugu audiences, it is quite boring as we have recently seen such themes – the importance of farming, corporate guys grabbing lands and hero fighting on behalf of villagers, etc.
On the whole, "Sulthan" begins on an interesting note, proposes some good mythological references but turns into a regular masala movie. It the end, it makes an uninteresting watch.
Bottom-line: Masala Kichdi