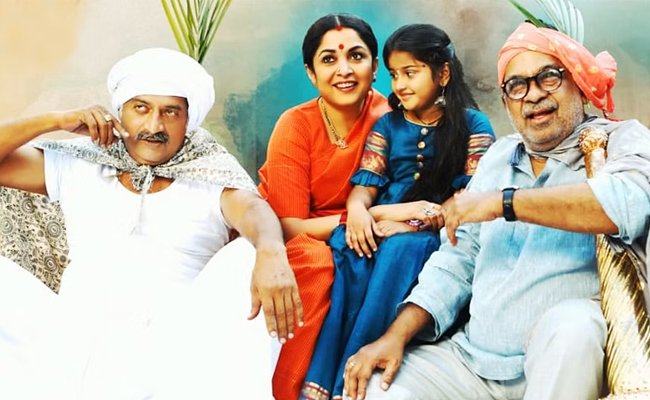 Movie: Rangamarthanda
Rating: 3/5
Banner: Rajashyamala Entertainments and Housefull Movies
Cast: Prakash Raj, Brahmanandam, Ramya Krishna, Anasuya, Adarsh Balakrishna, Shivathmika, Rahul Sipligunj, Bhadram, and others
Dialogues: Akella Siva Prasad
Music: Ilayaraja
Cinematography: Raj Nelli
Editor: Pavan VK
Art: Dattatreya Jhansi
Producers: Kalipu Madhu and S Venkat Reddy
Screenplay and Direction: Krishna Vamsi
Release Date: March 22, 2023
"Rangamarthanda" has received a great deal of praise since its early premiere screenings. Positive feedback flooded social media.
Is the film really that good? Let's find out...
Story:
Raghava Rao (Prakash Raj) receives the title Rangamarthanda for his outstanding performances but retires from the stage to spend more time with his wife Raju garu (Ramya Krishna) and children.
Rangarao (Aadarsh Balakrishna) and Sri (Shivathmika Rajashekar) are their children. Rangarao marries Geeta (Anasuya Bharadwaj), and Sri marries Rahul (Rahul Sipligunj). Raghava Rao leaves all of his money and assets to his children, hoping that they will look after him and his wife.
However, Raghava Rao encounters surprises in this chapter of his life, particularly their children's failure to treat him with the same love and respect he had shown them.
Artistes' Performances:
Three actors delivered powerful performances. Naturally, Prakash Raj in the title role walks away with laurels. His acting in the scenes set in the world of stage play appears a little theatrical, but he is fantastic in the scenes with his children. He's fantastic as a distraught parent.
Brahmanandam is a pleasant surprise. The veteran comedian steals the show in his full-length non-comedic role. He even breaks down in tears. Be on the lookout for his scene with Prakash Raj, in which he plays Duryodhana and Karna while lying in a hospital bed.
Ramya Krishna adds a touch of her brilliance to the mix in a more understated way.
Rahul Sipligunj stands out from the crowd with his genuine performance. Shivathmika demonstrates that she has great acting potential. Anasuya and Adarsh Balakrishna play their stereotypical roles well.
Technical Excellence:
Maestro Ilayaraja has composed music that complements this theme. "Damidi" is catchy. A song performed by the maestro himself plays in the background, adding gravitas to the story.
The editing should have been more precise. The dialogue flows naturally with the story. The camera work is satisfactory.
Highlights:
Performances by Prakash Raj and Brahmanandam
Emotional scenes
The hospital scene involving Brahmanandam
Drawback:
Old school scenes
Cliched narrative
Analysis
In spite of the fact that "Rangamarthanda" is a remake of the critically acclaimed Marathi film "Natsamrat," the story is not unfamiliar to Telugu viewers. The central drama is one that we are all familiar with from old films like "Samsaram Oka Chadarangam" and "Soorigadu," or from television shows. However, the Marathi film shed new light on acting and the curse of actors, who must live the lives created for them by writers and directors while simultaneously confronting the harsh realities of the real world.
In one scene, Prakash Raj and Brahmanandam's characters, two friends, are praising their wonderful wives for allowing them to follow their dreams and grow as actors. They feel guilty because they had more extramarital affairs than awards, and they don't know if their sins can be forgiven.
In another scene, a recently widowed Brahmanandam sits on his hospital bed, acting out a scene from one of their plays before suddenly asking his friend to help him die.
Such sequences make a lot of difference to this sentimental drama. Without these scenes, this film would have become another clichéd sentiment drama about the generation gap between parents and children.
The film effectively juggles two very different genres, depicting the lives of retired actors and a family drama. However, the emotional thread of children and parents experiencing a disconnect drives much of the story. The children are not villains or bad, but their parents suffer from the clash of opinions and tastes. The daughter-in-law feels stifled by her husband's dad's traditionalist ways. Furthermore, their own daughter has them moved downstairs so they won't embarrass her and her husband in front of guests. These are the same tired plot devices found in countless other family dramas. Unfortunately, "Rangamarthanda" focuses on these cliched scenes in an attempt to move us to tears. Despite the generic nature of the scenes, the film ultimately accomplishes its goals.
Krishna Vamsi's "Rangamarthanda" primarily gets emotional scenes right, whether they are clichéd or new. Plus, the performances are strong. Brahmanandam, Prakash Raj, and Ramya Krishna make the film work with their acting.
Krishna Vamsi is bold to present a film that deals with the sentiment sequences in an era where only commercial entertainers dominate the scene. It would have been a superb film if it weren't for the fact that it recycles tired plot devices and scenes from films made more than a decade ago. The narration is also very predictable, which is a major flaw.
All in all, strong acting and a few genuinely moving scenes make "Rangamarthanda" worth watching. It may not work for all people, but those who like sentiment dramas will enjoy it.
Bottom line: Sentimental Show