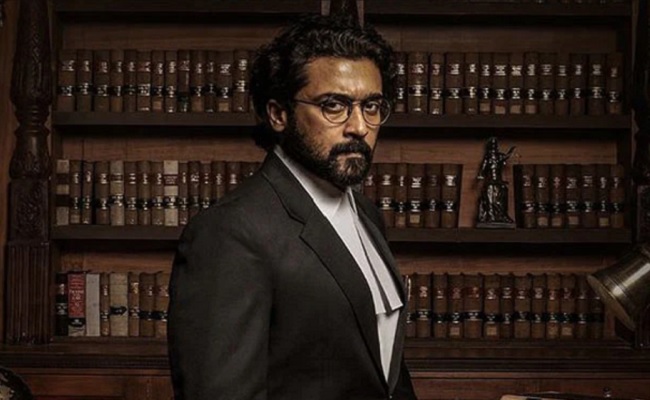 Movie: Jai Bhim
Rating: N/A
Banner: 2D Entertainments
Cast: Suriya, Lijomol Jose, K. Manikandan, Prakash Raj, Rajisha Vijayan, Rao Ramesh
Cinematography: S. R. Kathir
Editing: Philomin Raj
Music: Sean Roldan
Producers: Suriya, Jyothika
Direction: T. J. Gnanavel
Release Date: November 2, 2021
Streaming: Amazon Prime
After "Aakasam Nee Haddu Ra '', Suriya has starred in another content-driven film. He is also the producer for this latest drama titled "Jai Bhim''. Like "Aakasam Nee Haddu Ra'', this new film also premiered directly on Amazon Prime skipping the theatrical path.
First things first, "Jai Bhim" is not a commercial movie. It is a content-rich film that is anchored by a leading star. Suriya doesn't have a romantic thread, and nor does he perform an action stunt. Nearly after 30 minutes of the runtime, he makes an appearance quietly.
Based on real-life instances related to Irula tribes in Villupuram district in Tamil Nadu, the story takes place in 1995. The Telugu dubbed version is set in Konaseema in Andhra Pradesh.
Story
Rajanna (Manikandan), and Sinatalli (Lijomol Jose) are a tribal couple, live in a hut. Sinatalli expecting her second child with her husband, Rajanna leaves for a faraway place in search of work, as he promises her to build a house. He is also a snake-charmer. Days before he left for work, the village's president calls him to catch a snake in their home. When some jewelry was stolen in the president's home, the police were naturally suspicious of Rajanna.
Police torture Sinatalli asking her to reveal the whereabouts of Rajanna. With the help of local teacher Mithra, Sinatalli approached Chandru (Surya), an activist advocate, for justice. Chandru files Habeas Corpus petition asking police to bring Rajanna before the court of law. The rest of the drama is Chandru's fight for justice that unravels shocking truths about the police system and custodial torture.
Analysis
"Jai Bhim '' is the latest Tamil film that focused on the abuse of power after "Visarannai" and "Karnan". The film begins with the note that it is based on real incidents. The character Suriya portrayed is also modeled on a famous Tamilnadu's lawyer Chandru, who later became a judge in Madras High Court. New director T S Gnanavel has employed a documentary approach to narrating this real story, by not resorting to any commercial ingredients. There are songs in the film. But they are not the regular song-and-dance routine.
The narrative completely focuses on the tribals, the police harassment, and the courtroom proceedings. More than anything else, the director skillfully projects how the marginalized people land in wrong cases.
While the director's intention is laudable, he captured the custodial torture sequences in a complete raw manner. They are hard to watch. Also, the film with its 2 hours 45 minutes loses its firm pace after a point. The courtroom scenes also lack a dramatic feel. As many such gritty and raw films about oppression have come in the recent past, certain sequences don't provide much impact.
The performances and realistic settings are the main highlights. Lijomol Jose as tribal woman Sinatalli and Manikandan as Rajanna are terrific.
Suriya comes into the picture 30 minutes into the story, but he holds the film with his star power and commendable performance. As a lawyer, he looks like a firebrand. Prakash Raj as IG and Rao Ramesh as Advocate General come up with a believable act.
Music, cinematography, and production design are appropriate to the theme.
Coming to the Telugu dubbing part, the dialogue is poorly translated.
All in all, "Jai Bhim" is a gripping legal drama, with good performances but has a raw approach. It might appeal to those who like documentary-like serious movies.
Had this film been released in theatres, it wouldn't have worked. This is a perfect film for OTT.
Bottom-line: Sincerely made with a true incident
Click Here for Latest Direct-to-OTT Releases (List Updates Daily)