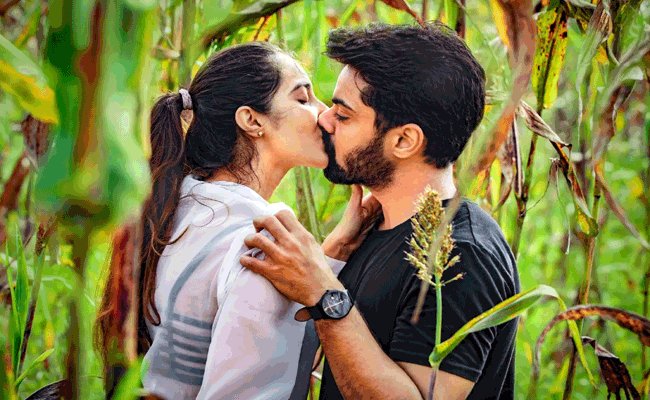 Movie: Dirty Hari
Rating: 2.5/5
Banner: SPJ Creations, HYLIFE Entertainment
Cast: Shravan Reddy, Ruhani Sharma, Simrat Kaur, and others
Music: Mark K Robin
Cinematography: MN Baal Reddy
Editor: Junaid
Producers: Guduru Sateesh Babu and Guduru Sai Puneeth
Written and Direction: MS Raju
Release Date: December 18, 2020
Streaming on: Friday Movies ATT
Veteran producer MS Raju, the filmmaker behind blockbusters like "Varsham" and "Nuvvosthanante Nenoddantana" has directed an adult thriller called "Dirty Hari", which got released on the newly launched Friday Movies ATT app.
Let's find out its merits and demerits
Story:
With the ambition to make it big in the city, Hari (Sharavan Reddy) lands in Hyderabad and gets a job in a club. A chance meeting with a businessman Aakash in the club changes his life. Akash's cousin Vasudha (Ruhani Sharma) and Hari fall in love.
At the same time, Hari gets attracted to Akash's girlfriend Jasmine (Simrat Kaur), a struggling actress. Soon Hari and Vasudha get married, and Jasmine breaks up with Akash.
Now, lustful Hari maintains a dangerous relationship with Jasmine.
Artistes' Performances:
Shravan Reddy as Hari fits perfectly. He is handsome and acts well as an ambitious person with lecherous behavior. Shravan Reddy is known to Bollywood audiences though this is his first film in Tollywood.
Ruhani Sharma as a rich but dutiful wife is okay. Simrat Kaur has played a bold role. Not only does she perform love-making sequences, but also used swear words liberally. Her characterization is quite complicated.
Surekha Vani and Appaji Ambarisha as Ruhani's parents are worth noting. The character of Jabardasth Mahesh is silly.
Technical Excellence:
The film is richly shot, it has appealing production values. Photography is the main strength. The pace of the movie is slow.
Highlights:
Bold treatment
Climax portions
Drawback:
Repeated scenes of lovemaking
Ruhani Sharma's character
The second half of the film
Dull Screenplay
Analysis
The genre of adult thrillers are not new to Tollywood, but "Dirty Hari" is bold in many ways, and surprises us on several counts.
First, the film is directed by MS Raju, who has always been known for love dramas that appealed to the family audiences. But he has not tasted success in the last ten years, which might have forced him to shift gears.
The second is that it has erotic scenes that are quite bold for a Telugu movie. And female characters use the "F" word as frequently as one says "OK" besides using phrases like Madaar****, "Ban***D", and "Mu**i pagalakoduta".
The plot also deals with mostly sex and lustful desires. Besides the hero's affair, the film also shows Jabardasth Mahesh's character, whose wife always wants him to have sex. The character adds nothing to the story but adds more "masala".
Regarding, hero's story, it is a three-way story. Hari loves Vasudha for a good life, and money but desires Vasudha's brother's girlfriend for her hot body. A "hero" lusting his wife's brother's girlfriend is quite bold. Vasudha's sole aim in life is to have four children.
In a way, all characters think about sex all the while, in one way or the other.
Director MS Raju has written a story with the sole aim to get connected to the current generation of youngsters. He succeeds in filming bold lovemaking scenes between Shravan Reddy and Simrat Kaur. However, the characterization of the trio – Shravan Reddy, Simrat Kaur, and Ruhani Sharma, are unconvincing.
All in all, MS Raju's attempt at an erotic genre is filled with clichéd moments and bold sequences in equal portions. Climax portions and bold subject aside, slow pace, and repeated sex sequences make it very average fare.
Bottom-line: Raju's 'Dirty' Attempt
Click Here for Latest Direct-to-OTT Releases (List Updates Daily)