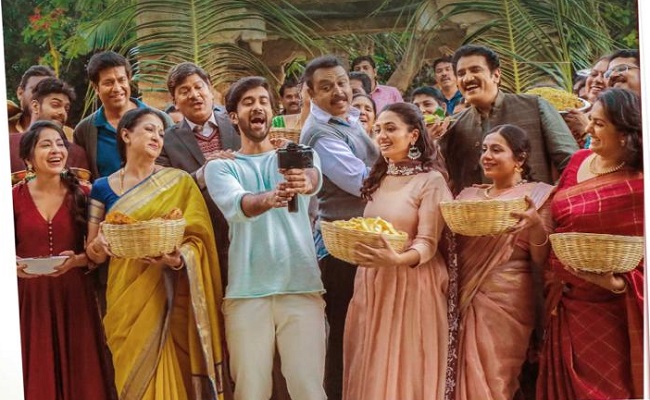 Movie: Anni Manchi Sakunamule
Rating: 2.25/5
Banner: Swapna Cinema and MitraVinda Movies
Cast: Santosh Soban, Malvika Nair, Rajendra Prasad, Rao Ramesh, Naresh, Gauthami, Sowcar Janaki, Vasuki, Vennela Kishore, and others.
Dialogues: Lakshmi Bhupala
Screenplay: Dawood
Music: Mickey J Meyer
DOP: Sunny Kurapati and Richard Prasad
Editor: Junaid
Producer: Priyanka Dutt
Story and Direction: Nandini Reddy
Release Date: May 18, 2023
Nandini Reddy is a successful director. Swapna Cinema is a film production company that has produced high-quality films. They collaborated on making this film.
Let's see if the film provides wholesome entertainment.
Story:
In the hospital, two newborn babies, a girl and a boy, are mixed up. The nurses switch the babies and assign them to the incorrect parents.
Prasad (Rajendra Prasad) and his wife (Gautami) raise the boy Rishi (Santosh Sobhan) as their son, while the girl Arya (Malvika Nair) goes to Sudhakar (Naresh) and his wife. Both families have a long history of feuding over a family coffee estate.
Rishi eventually becomes a food blogger, while Arya becomes an entrepreneur. Rishi has loved Arya since his school days, and Arya is attracted to him when they travel to Italy on a project together, but a small misunderstanding causes them to break up.
Will both families ever learn the truth about the baby exchange? Will Arya and Rishi ever get back together?
Artistes' Performances:
Santosh Sobhan is okay as an "irresponsible youngster." He has been playing such young roles. He's just fine.
As 'DJ Tillu' Siddhu mentioned in a recent interview about Malvika Nair's choice of roles, she gets another role that is strong on the surface.
Rajendra Prasad, Sowcar Janaki, Gautami, Vasuki, Naresh, Rao Ramesh, and Vennela Kishore are among the many actors in the film. They play predictable roles in expected ways. However, Rajendra Prasad, Rao Ramesh, and Gautami shine in the scenes where they are given the spotlight.
Technical Excellence:
Mickey J Meyer appears to have reworked some of his older songs. His songs aren't particularly noteworthy. Although the title song is pleasant to hear, it serves only as a background piece and has little impact.
The film is entirely set in a hill station, with a couple of episodes in the first half taking place in Italy. So, the frames appear to be rich. The cinematography is cool. The editing is inadequate.
Highlights:
The final 15 minutes
A couple of moments here and there
Drawback:
No convincing conflict
Thin story, sluggish narration
Filled with too many random scenes
Analysis
"Anni Manchi Sakunamule" begins in a hospital, with two newborn babies being given to the wrong parents. It begs the question of whether the success of "Ala Vaikunthapurramloo" prompted director Nandini Reddy to put her own spin on this central concept. Fortunately, the film does not rip off "Ala Vaikunthapurramloo" after this opening scene. Unfortunately, it doesn't add anything new either.
After being raised by non-biological parents, the boy and girl in this story quickly fall in love and break up. This single storyline consumes the entire first half, which lasts for one and a half hours. Director Nandini Reddy fills the first half with very random sequences, such as a school romance, two families fighting over an estate, family scenes, and the jokes of Vennela Kishore as a greedy son-in-law. The hero and heroine also travel to a foreign destination to dance to a romantic number.
It is common for filmmakers to reveal the main conflict point in the second half. Nandini Reddy does the same, but the conflict doesn't work in this case. In fact, it's non-existent. For instance, we see the heroine suddenly fall in love with another guy, and she happily agrees to his marriage proposal. However, she changes her mind after reading a letter written by the hero. Isn't it a cliched scene? If she truly loved the guy who proposed to her, why would she change her mind after reading a letter written many years ago?
Furthermore, there is a forced scene of Telangana guests demanding "mutton" in the wedding dinner, just to add a family song. Nandini Reddy clearly fails miserably in terms of the writing.
Nandini Reddy's idea might have been to present this film in the style of "Hum Aapke Hai Kaun," which was a family drama with no flimsy conflicts. However, we don't have such an enjoyable narrative here. There are a few good moments in the film, and the last fifteen minutes are far superior to the previous episodes, but they don't make much of a difference.
Overall, "Anni Manchi Sakunamule" is more of a family drama than a rom-com, and this family soap opera is wrapped in old-fashioned sequences. Despite its rich and pleasant appearance, the film fails to provide an enjoyable experience. Swapna Cinema, which has recently produced films with strong writing, offers little new this time.
Bottom line: Not so auspicious