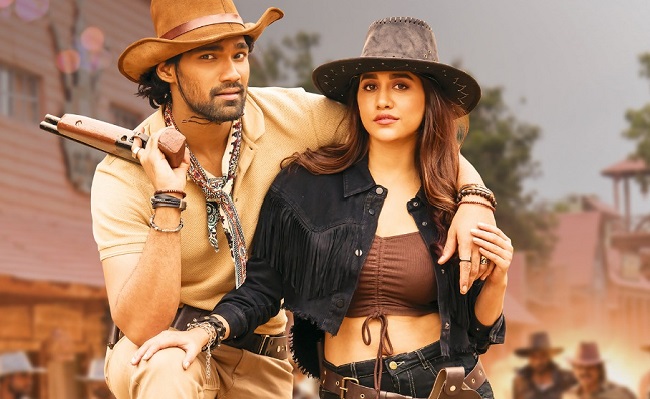 Movie: Alludu Adhurs
Rating: 1.5/5
Banner: Sumanth Movie Productions
Cast: Bellamkonda Sreenivas, Nabha Natesh, Anu Emmanuel, Sonu Sood, Vennela Kishore, and Prakash Raj
Music: Devi Sri Prasad
Cinematography: Chota K Naidu
Editor: Thammiraju
Action: Ram-Laxman, Stun Siva
Art: Avinash Kolla
Producer: Gorrela Subrahmanyam
Written and Direction: Santhosh Srinivas
Release Date: Jan 14, 2020
Santhosh Srinivas of "Kandireega" fame teaming up with Bellamkonda Srinivas has raised curiosity.
Santhosh Srinivas has been going through a bad phase, and Bellamkonda Srinivas is looking to come out from the action mould.
Have they got what they want with "Alludu Adhurs"? Let's find out?
Story:
Sreenu (Bellamkonda Sai Srinivas) runs a startup company. But he is mostly seen bashing goons, roaming on the roads, singing duets with the girl he likes - Kaumudi (Nabha Natesh). Once in a while, he appears writing something on a board in his office.
Kaumudi is the younger daughter of Jayapal Reddy (Prakash Raj), who has a big influence in Nizamabad. Jayapal Reddy strangely agrees to a strange proposal made by Sreenu.
The proposal is that Srinu would leave his daughter Kaumudi if she falls in his love in 10 days. And how do Gaja (Sonu Sood) and Vasundhara (Anu Emmanuel) come into the picture?
Artistes' Performances:
When Bellamkonda Sai Srinivas is not involved in fights, he is either seen dancing in a song or enacting silly scenes. His attempt at comedy falls flat. Sonu Sood gets a raw deal as well.
It is Prakash Raj who comes up with a hilarious act. Both Nabha and Anu Emmanuel hardly get a chance to prove their acting capabilities other than appearing in a song and dance routine.
Technical Excellence:
The film has high production values, as the lavish sets are erected in songs and for scenes. The look is bright and rich. Except for 'Hola Chika', all the songs are template tunes from Devi Sri Prasad. Editing is messy.
Highlights:
Some comedy scenes
Drawback:
Silly story
Mindless scenes
No reason and rhyme
Outdated narration
Loud and clueless acting
Analysis
Director Santhosh Srinivas's latest movie, "Alludu Adhurs" follows the tried and tested, and outdated template of several mass entertainers. Fifteen minutes into the film, we hear a character shouting, "Endiraa Bhai Nee Character Inta Confusing Undi."
The reaction of the audience is the same.
Forget about confusion, there is no plot to talk about it. Santhosh Srinivas has just clubbed scenes from various hit movies and added scenes, songs, fights, spoofs, ghost sequences, and whatnot, at his whims and fancy to make this potpourri. There is no sense, rhyme, and reasoning.
For Santhosh Srinivas, anything can be added for the sake of 'entertainment'. He doesn't give a damn whether, it appeals or not, or suits whatever 'story' that he is telling. No wonder then that he begins the story as a romantic drama, turns into an action thriller, then proceeds on touching various genres like horror-drama, revenge drama, musical, etc.
Every character in the film acts dumb. Prakash Raj 'imagines' his daughters being present when they are not, and he also sings Ilayaraja melodies to manage his anger as part of therapy. Sonu Sood is presented as a villain, but he soon turns into a comedian, and he also gets a romantic track given his current off-screen image.
Santosh Srinivas must have shot whatever came into his mind as the film's shoot progressed.
Had "Alludu Adhurs" been released a couple of years ago, the film would have not given such unbearable feelings as we do now. But we have already seen such work many times, and this rehash tests the patience. "Alludu Adhurs" is a lame work in the name of entertainment.
Bottom-line: Mind 'chedhurs'
Click Here for Latest Direct-to-OTT Releases (List Updates Daily)