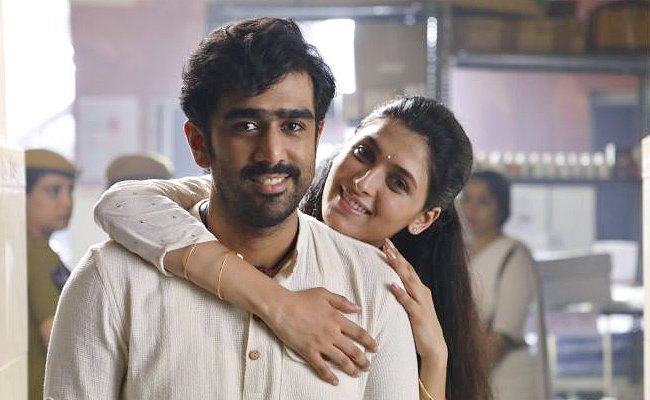 Movie: Ahimsa
Rating: 1/5
Banner: Anandi Arts Creations
Cast: Abhiram Daggubati, Gitika Tiwari, Sada, Rajat Bedi, Kamal Kamaraju, and others
Music: RP Patnaik
Background music: Anup Rubens
DOP: Sameer Reddy
Editor: Kotagiri
Music: Kalyan Nayak
Producer: Kiran
Story, screenplay and Directed by: Teja
Release Date: June 02, 2023
Teja is a popular director, and the news of Rana's brother Abhiram being launched under his direction created quite a buzz. Despite facing delays, "Ahimsa" managed to capture attention.
Now, let us evaluate its strengths and weaknesses.
Story:
Raghu (Abhiram) and Ahalya (Geethika) become engaged. However, Ahalya is tragically raped by Dushyantha Rao's (Rajat Bedi) influential son. Despite his usual aversion to violence and illegal methods, Raghu takes up the fight for Ahalya's justice.
Lakshmi (Sada), a lawyer, lends her support to the case. As Raghu delves deeper into the pursuit of justice, he finds himself questioning his commitment to non-violent means.
Will he ultimately resort to violence in his quest for justice?
Artistes' Performances:
Abhiram Daggubati, the son of veteran producer D Suresh Babu and the younger brother of Rana, marks his acting debut in this film. However, he fails to capture our attention due to his lack of good looks and acting skills.
Geethika, the newcomer, delivers an average performance. On the other hand, Sada excels in her role, showcasing impressive acting abilities.
Unfortunately, the rest of the cast resorts to loud acting methods.
Technical Excellence:
This film ventures into new locations for its forest sequences, providing a refreshing experience. The cinematography, helmed by Sameer Reddy, is truly excellent, showcasing his wealth of experience in capturing stunning visuals.
However, the songs in the film are a mishmash. RP Patnaik, making a comeback, has managed to produce some respectable numbers, with the song "Neethoney Neethoney" standing out as the best among them. "Vudhile Vundhile" is passable.
On the other hand, the editing leaves much to be desired, resulting in a chaotic presentation. Furthermore, the film suffers from an extensive running time.
Highlights:
Cinematography and locations
Courtroom episode
Drawback:
Over the top sequences
Outdated narrative
Never-ending second half
Abhiram's acting and looks
Analysis
Director Teja has launched many actors, including the late Uday Kiran, Nithiin, Navdeep, Kajal Aggarwal, Sada, and Prince. He has a track record of introducing new faces in his films. However, the veteran director has struggled to create movies that resonate with the current generation. Apart from 'Nene Raju Nene Mantri,' which starred Rana, all of his films in the last decade have been unsuccessful.
After a short break, Teja has chosen Abhiram Daggubati as the lead actor for his latest film. While this serves as a launch pad for Abhiram, it gives us the impression that Teja's ideas are stuck in the early 2000s, reminiscent of his previous films.
Certain episodes in the movie carry a "Jayam" vibe, while others feel like recycled content from his past works.
Abhiram and Gayatri are pursued by three different groups, leading them to flee into the forest and engage in continuous running. The film seems to go on indefinitely. Unexpectedly, at exactly 2 hours and 20 minutes into the movie, Director Teja includes an item song just as we start preparing to leave, assuming the climax scene has concluded. He then extends the narration for another 20 minutes. This 2-hour and 42-minute film becomes a test of endurance for the audience.
It's difficult to determine which is more torturous: Abhiram's expressionless acting or Teja's outdated storytelling.
Abhiram's philosophical perspective and acting style become a headache-inducing experience. To endure until the end of the movie, one must possess immense patience. The entire second half, filled with never-ending chases and fights, demonstrates the director's lack of synchronization with the current trends in filmmaking.
Although some points regarding violence and non-violence may appear reasonable on paper, they come across as ridiculous in the film. Certain scenes even reek of misogyny.
Overall, "Ahimsa" inflicts himsa (harm) upon the audience. It is a challenging and forgettable experience, making it hard to recall what we had witnessed by the end of the movie.
Bottom line: Torture