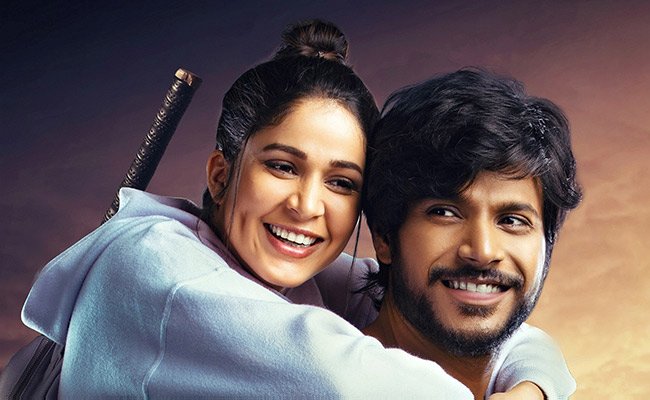 Movie: A1 Express
Rating: 2.5/5
Banner: Venkatadri Talkies, People Media, AA
Cast: Sundeep Kishan, Lavanya Tripathi, Priyadarshi, Rahul Ramakrishna, Murali Sharma, Rao Ramesh, and others
Music: Hip Hop Tamizha
Cinematography: Kavin Raj
Editor: Chota. K. Prasad
Production Designer: Faisal Ali Khan
Stunt: Venkat
Producers: T. G. Vishwa Prasad, Abhishek Agarwal, Sundeep Kishan, Daya Pannem
Direction: Dennis Jeevan Kanukolanu
Release Date: March 05, 2021
Besides investing money as one of the producers, Sundeep Kishan has promoted "A1 Express" aggressively exuding so much confidence in this film. Plus, being the first Telugu movie based on hockey sport has generated good buzz around it. With audiences are embracing diverse content, "A1 Express" has raised curiosity.
Let's find out whether Sundeep's hard work paid off.
Story:
Sundeep Naidu (Sundeep Kishan) has an aim to settle in France. He is working towards that mission. He lands in Yanam to his uncle's place. He meets Lavu (Lavanya), a hockey player, and falls for her instantly. In trying to impress her, he follows her to the ground where she practices hockey.
A corporate company wants to set up their pharma company in the same place the stadium is situated. The stadium's unique position is ideal for the company to set up its factory. The company management seeks the help of a local politician (Rao Ramesh) in getting this land to their factory. But the local people and Yanam hockey team oppose this move.
With the help of Sundeep Naidu, they try to save their ground. How do they do? That forms the core point.
Artistes' Performances:
Sundeep Kishan is believable in the role of a hockey player. He has put in a lot of hard work, gone for physical transformation to make this role work.
Lavanya Tripathi has also done her part well.
Rao Ramesh as a wily politician, Murali Sharma as the main coach, Priyadarshi and Rahul Ramakrishna as Sundeep's childhood buddies have done justice to their roles.
Technical Excellence:
The hockey sequences in the climax are filmed realistically. The production values and cinematography are good. However, the editing is quite bad. The dialogues are not effective as well.
Highlights:
Climax sequences
Sundeep's sincere effort
Drawback:
Ineffective emotions
First half
Choppy Editing
Too many subplots
Analysis
Lately, sports dramas have become very common in Tollywood. Many films based on chess, cricket, and other sports hit the screens recently. "A1 Express" is the latest addition, and this story revolves around hockey. The one aspect of sports-based movies is that they look and feel the same from one another barring little variation.
Games change, but the tropes remain the same.
The film is said to be based on a Tamil hit movie. But anyone who has seen Nithin's "Sye" can easily draw parallels with this film. In "Sye", they played Rugby to save the land of the collage building, here it is about the hockey stadium.
Besides that "A1 Express" also blends friendship drama and corporate-political drama. It has mixed several themes and genres, but the blending is not proper.
In the second half, we see silly lines involving Rao Ramesh. The elements of Hindu-Muslim fights, caste angle, and others seem quite forced. The political satires hardly work. They are taken as is from the Tamil version.
Until the interval bang, the real identity of Sundeep Kishan is kept as a secret. Revealing that he is a well-known hockey player at the interval hardly surprises us when the promotional material showed his real identity. And how come a hockey coach (played by Murali Sharma) doesn't recognize a national-level or international player? Such convenient twists have marred its entire feel and intention.
While the first half is hardly impressive, it comes into the groove at the interval bang. The second half tries to focus on two emotional points -friendship drama and hockey match. But it does justice to none of these. There are some rousing moments like the flashback episode of Priyadarshi and Rahul Ramakrishna. But the film lacks consistent flow. It rises and falls in the second half as well.
Predictable screenplay structure and lack of gripping narration have turned "A1 Express" into a run-of-the-mill sports drama.
Bottom-line: A1 Passenger