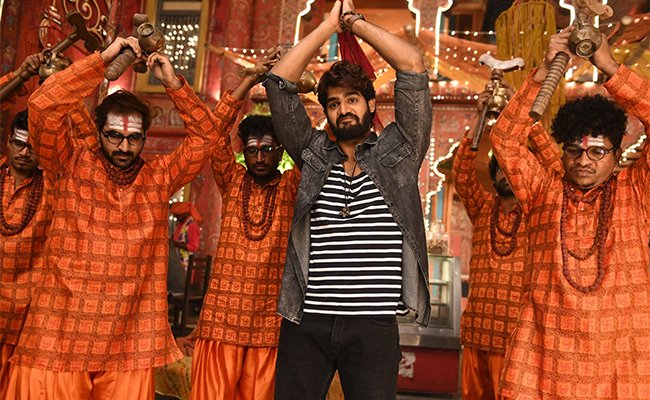 Movie: 90 ML
Rating: 1.5/5
Banner: Kartikeya Creative Works
Cast: Kartikeya, Neha Solanki, Rao Ramesh, Ravi Kishan, Posani, Ali and others
Music: Anup Rubens
Cinematography: J Yuvaraj
Editing: SR Sekhar
Art: GM Sekhar
Producer: Ashok Reddy Gummakonda
Written and directed by: Erra Sekhar Reddy
Release date: December 6, 2019
Except 'RX100', none of his movies clicked at the box-office but Kartikeya's latest outing hit the headlines as it ran into censor problems.
Let's analyze ….
Story:
When he's two-year-old, Devadas's (Kartikeya) parents notice that he gets attracted to the smell of alcohol and they take him to a doctor. The doctor informs that the child is born with a rare disease called fetal alcohol syndrome. There is no medicine for it. He advises him to serve the kid 90ML of alcohol daily.
The story moves forward... Devadas is now in his twenties. He falls for a physiotherapist Suvasana (Neha Solanki) who doesn't like people who drink alcohol.
Added to this problem, there is John Wick (Ravi Kishan), a factory owner. How will Devadas manage his love matter and the problem with John Wick?
Artistes' Performances:
Kartikeya has played to the gallery with antics and dialogues. He has improved his dance skills but he still has a long way to go in the acting department.
Neha Solanki hardly impresses. Rao Ramesh as the heroine's father is okay. Roll Rida as a hero's friend generates some laughs. Ravi Kishan provides comedy as well.
Technical Excellence:
The film is shot with good production values. Anup Ruben's music is quite routine but songs are picturized in exotic locations. Cinematography is decent.
Editing is utterly bad. The film needs a lot of trimming. Dialogues are mediocre.
Highlights:
Some comedy portions
Drawback:
Standard scenes
Old-school narration
No rhyme and reason
Glorification of alcoholism
Analysis
Does a disease like 'fetal alcohol disorder' exist? And such patients survive only by taking 90ML of alcohol daily three times? Yes, is the answer from director Yerra Sekhar Reddy who debuted with '90ML' and the movie deals with a protagonist who has this disorder.
The disorder itself sounds bizarre and the narration is even clumsier. Right from the beginning, the film goes over the top. Sequences with no iota of creativity or sensibility are dished out.
Hero uttering irrational dialogues like 'no relation feelings, no regional feelings' is proof that this director's ideas are stuck in a time warp.
Hero saves a kid, heroine films the incident on her mobile and starts liking him. One day, the hero watches the heroine clearing the traffic and falls for her. From the 90's we have seen such scenes in hundreds of movies.
The villain is introduced with a weird dressing style. This is also clichéd. Heroine's father sees the hero's real character (alcohol problem) on the road in an incident. This was also shown in many movies.
There are plenty of such routine scenes to point out. When a story is hackneyed, narration should be trendy. But this film lacks on both counts. As the film progresses, our patience decreases.
After 'Hippi', this is another boring film from Kartikeya. And the film's ending inadvertently glorifies alcoholism (instead of milk, the heroine provides a glass of wine). The film is narrated in an old-school way with trite ideas.
In a nutshell, '90ML' tests the patience with its lousy narration and clichéd sequences.
Bottom-line: Overdose of Boredom