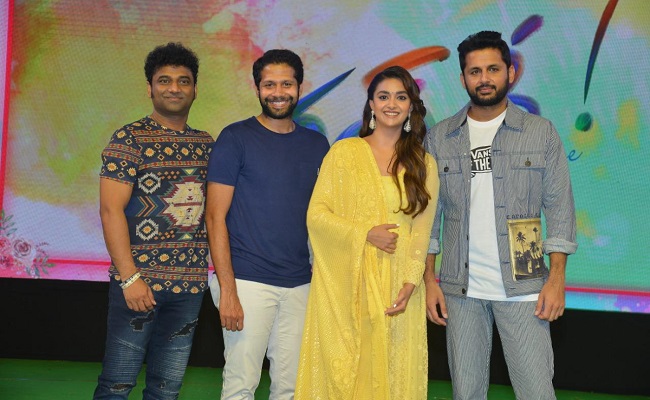 Nithiin's Rang De grand event in Rajahmundry is a grand gala with the entire cast and crew attending it. The vent also witnessed huge turnout.
Director Venky Atluri clarifying on the title said, "We play with different colors during Holi celebrations, likewise you will see different emotions come in splash and that's the beauty of Rang De."
The film's trailer showed Keerthy Suresh torturing Nithiin, but the actress claims it's completely reverse in the film. "Nithiin is one of the best co-stars I've ever worked with. I was presented like a villain in the trailer. But, Nithiin is the villain. I actually take revenge in second half."
Nithiin made an interesting statement that Keerthy Suresh always tortures other and it's her real character in the film.
"Rang De is a family entertainer. This is my third film under Sithara Entertainments. I last came to Rajahmundry for the song shoot of Bheeshma and it became hit. Today, I've come here for Rang De function. I feel it as a sentiment. Venky Atluri has been a good friend of mine for long.
DSP gave wonderful music. The album will remember for ages. I hope our combo will repeat. It's Keerthy's real character in the film. She always tortures others. It's indeed Keerthy's biopic."
Rang De will be gracing the theatres in a couple of days on March 26th.