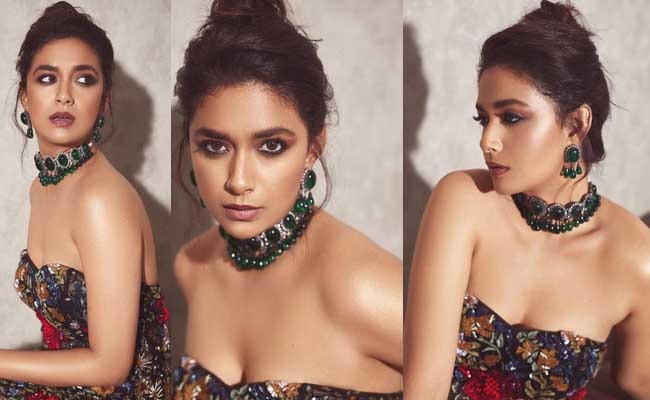 In her latest Instagram post, Keerthy Suresh exudes a stunning aura as she poses on an antique leather seat.
She dons a sequined multi-colored tube jumpsuit, paired with green choker necklaces and earrings embellished with large green gemstones, which only adds to her allure.
Keerthy Suresh is widely known for her homely persona in the South film industry, and has a large following of both men and women who appreciate her natural charm.
However, the actress appears to be shedding her girl-next-door image, as evidenced by her recent photoshoots that showcase a newfound sexiness and confidence.
Her latest Instagram pictures are no exception, as she looks absolutely breathtaking in a dark sleeveless gown with a plunging neckline that gives a glimpse of her cleavage.
It remains to be seen whether Keerthy will maintain this sultry persona in her upcoming film projects or restrict it to social media photoshoots.
In the meantime, fans can look forward to her upcoming role as Vennela in Nani's highly anticipated rural action drama, Dasara, set to release on March 30.
The film's pre-release buzz is positive, and Keerthy's performance is sure to captivate audiences of all ages.