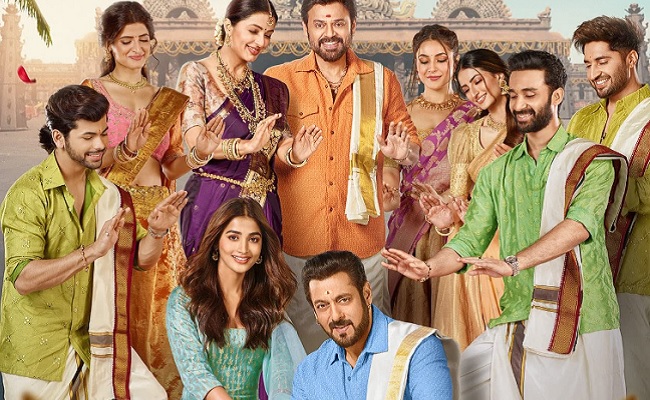 Venkatesh is an established actor in the South Indian film industry who enjoys a massive fan following. However, his recent choice of roles has been questionable.
He recently acted in a web series called 'Rana Naidu,' which was criticized for its vulgar content. This decision has already tarnished his image among fans who expect more from him.
Unfortunately, he has now lost his image in a different way by playing a side character in the recent Hindi film 'Kisi Ka Bhai Kisi ki Jaan,' which turned out to be a colossal disaster at the box office. This has further disappointed fans who were eagerly waiting for his next release.
Salman Khan's latest film 'Kisi Ka Bhai Kisi ki Jaan' was taken from an old Tamil film called Veeram. It was remade into Telugu as Katamarayudu, which turned out to be a disaster, and was also remade in Kannada, which also failed.
KKBKKJ came up adding Telangana elements like the Batukamma song and Telugu words in Hindi songs, and Telugu actors Venkatesh and Jagapathi Babu playing key roles. However, the result was a colossal disaster.
Salman Khan's films usually attract a lot of attention from his fans during Eid, but this time his film was completely ignored. Furthermore, the content of the film was so bad that negative word-of-mouth publicity is spreading.
The story of the film is about a North Indian man falling in love with a Telangana girl whom his brother does not approve of.
The story revolves around how the man convinces the heroine's brother to agree to the marriage. This storyline is one of the most overused storylines in Indian cinema, and it fails to attract the audience's interest, despite any additional elements.
The plot bears a resemblance to 'Chennai Express' starring SRK, which worked at the box office years ago.
Finally, the film 'Kisi Ka Bhai Kisi ki Jaan' ended up as a damp squib and received huge criticism. Several memes and trolls are surfacing regarding this film.