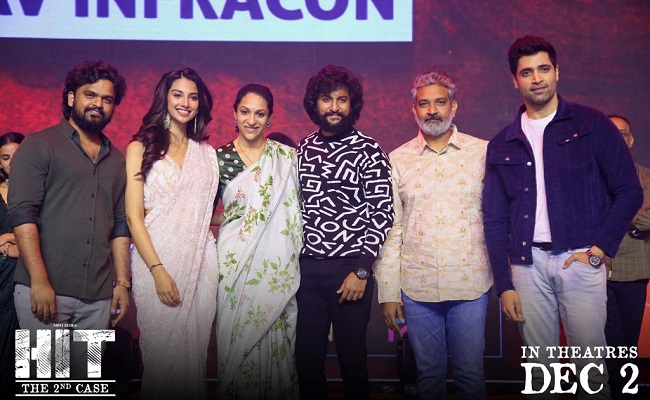 The pre-release event of Adivi Sesh's HIT 2 was a grand gala with several special guests including SS Rajamouli gracing it and the turnout for the same was massive.
Director Sailesh Kolanu thanked Rajamouli for coming for HIT event and now for HIT 2 event. He hoped the ace director will continue to be part of HIT next parts as well.
Sailesh Kolanu said, "I've added many emotional layers, within the thriller genre as to give a wholesome experience. I wanted to make the script bigger. I wanted the universe to be bigger. If you liked Hit, you will like HIT 2 more. HIT 2 will be much more riveting than Hit."
Rajamouli congratulated the producers Nani, Prashanthi, and director Sailesh Kolanu for making HIT a franchise. He presumed it is the first-ever franchise in the genre in India. "It's good to have a special fan base for the HIT series. Vishwak who did HIT and Sesh who did HIT 2 brought a special energy to this franchise. I watched the trailer and I liked it. I loved the BGM which gave me energy. I liked the last sequence of Kodi Burra. I wanted to know who's the criminal. Every year, we should have a HIT, that is what I think should happen and it will happen. Technical values are grand and the actors seem to have done well. Sesh and Meenakshi's pairing looks good on screen. This is going to be a quality product from Telugu cinema."
Sesh stated he was excited, at the same time was nervous. "I prefer to call these people a family, rather than guests. Sweety Anushka would have been a surprise guest, but she couldn't make it as she was suffering from a cold. The common factor for all of us is we all came from outside, stepped into the industry, hard work and tasted success. I said in many times that Nani is my favorite star. From Ashta Chamma to Dasara, to see him in different roles that have inspired me, there's nobody who can't like Nani and his movies.
In many ways, for my work ethic and work approach, the root cause was the Baahubali experience. It was like a film school for me. I'm like an Ekalavya shishya to Rajamouli sir. I've been watching him, and his work and getting inspired. I always wonder how the audience will feel about my every film.
I worked really hard on this film, like for my previous film. But I was happy to be part of Sailesh's grand vision. Sailesh told me that I was part of HIT 3 as well. HIT 2 is a riveting film. I enjoyed doing this film. We'll reveal the release date of the Hindi version of HIT 2 in a couple of days."
Nani said he gets positive energy whenever he sees Valli and Rama garu. "We made this film as a gripping thriller and I hope it will entertain you. Rajamouli garu attends all the functions of Sai garu and my movies as well. After watching his photos in suit, I thought he should do as a hero.
Sesh is a terrific actor. He always works hard. Sailesh was a scientist, before becoming a director. His research work helped the film. He wanted to do 7 parts and he wanted to bring all the heroes together for 7th part to solve a big problem. I'm also waiting eagerly to watch the movie. When you watch HIT 2, you will know the hero of HIT 3."