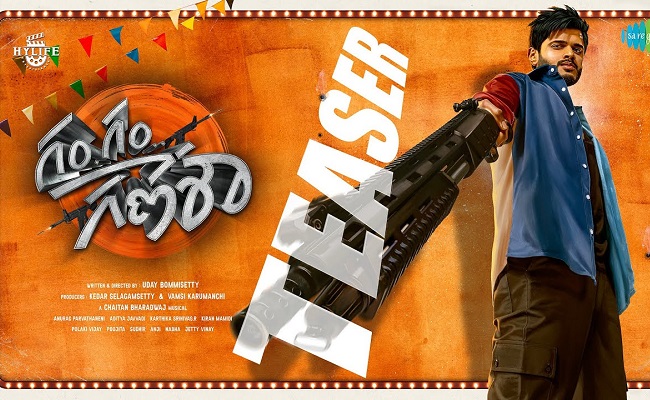 Young actor Anand Deverakonda who scored blockbuster hit with Baby, is now coming with an action entertainer titled Gam Gam Ganesha. The recently released intriguing first look garners everyone attention.
Continuing the momentum, today makers unveiled the film's teaser which is packed with fun, thrilling and intriguing elements.
The teaser begins with the line "Being good in bad world is a bad idea" worte by Auto Anna. It introduces our not os good guy Anand Deverakonda in a chilled character.
Then the antagonist makes his entrance who want to save the family's name. The glimpses of his action and how Anand involved in all this? what's the deal? Lot of questions will get answer very soon on big screens.
Slew of comedians introduced in the trailer like Vennela Kishore, Satyam Rajesh, Jabardast Immanuel and many others, who offer solid Entertainment.
The thumping background score and visuals raises curiosity on this mad action thriller that's packed with entertainment.
Gam Gam Ganesha is written and directed by Uday Shetty. The film is produced by Kedar Selagamashetty and Vamsi Karumanchi under the banner HyLife Entertainment.
Chaitan Bharadwaj has composed the music for Gam Gam Ganesha. Karthika Srinivas R is the editor of the film, with Co-Produced by Anurag Parvathaneni.