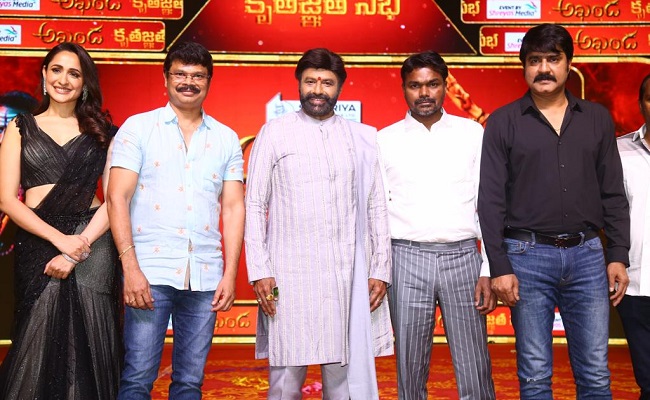 Akhanda team conducted Kruthagnatha Sabha, as to thank audience, on the occasion of the movie completing 100 days.
The event that witnessed huge turnout took place in Kurnool, in presence of Balakrishna, Boyapati Sreenu and other team members.
Miryala Ravinder Reddy stated that they wanted to hold success meet of the movie in Kurnool, but they didn't get the permission back then due to corona.
The producer also expressed his wish of making another movie with Balakrishna.
Boyapati Sreenu affirmed that every film he made with Balakrishna was an experiment and they became blockbusters.
"It's 13 years of long journey with Balakrishna. Not just Balakrishna fans, other hero fans too lent their support for Akhanda. If Rayalaseema people like a movie, everyone in the world will like it. They have such understanding on commercial movies.
Balakrishna was particular about celebrating this occasion here. Out of 4 centres celebrating 100 days of the movie, 3 are from Kurnool. Not just films and politics, he is carrying the legacy of philanthropy works from his father NTR.
Balakrishna at an event told that the God united two of us. I hope, we'll continue our journey together forever like this."
Balakrishna thanked audience for making Akhanda such a big hit under tough conditions.
"It's been long since we celebrated 100 days function of a movie. I and Boyapati believe in hard work. We don't discuss much about stories of our movies as well. We have such belief on each other.
Thaman gave wonderful music. He took audience to another world with his background score. He also gave some beautiful tunes. Srikanth took a wise decision and played his role capably."