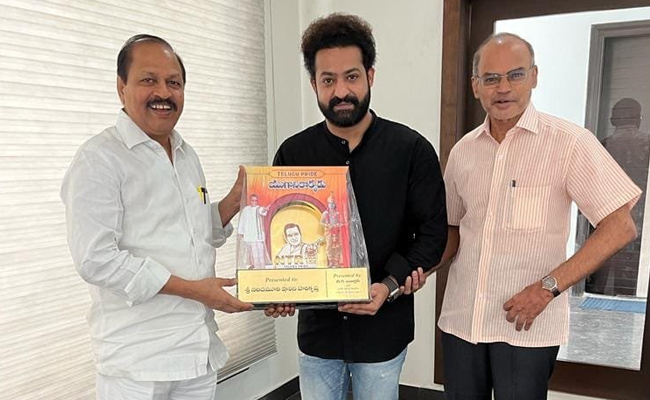 It is widely known that former MLC TD Janardhan and Nandamuri Rama Krishna extended an invitation to Jr NTR for the NTR Centenary Celebrations scheduled to take place in Hyderabad on May 20.
These pictures created a stir in political circles, leading to speculation that the Nandamuri family, including Nara Chandrababu Naidu, is attempting to appease Jr NTR in order to gain favor with many TDP party members.
We are all aware of how TDP party members and supporters proudly showcase pictures of Jr NTR to Chandrababu and Balakrishna during their public addresses. This incident even occurred during the NTR Centenary celebrations held in Vijayawada.
Although Chandrababu and Balakrishna harbor animosity towards Jr NTR, they may have calculated that, given the upcoming elections, it would be politically advantageous to temporarily adopt a softer stance towards the young tiger.
However, it is worth noting that Jr NTR was only invited to the event taking place in the Telangana State, not to any event in Andhra Pradesh. Despite accepting the invitation with a smile initially, he appears to have decided to distance himself from the event.
Coincidentally, the day of the event coincides with Jr NTR's birthday.
Janardhan informed the media that Jr NTR had conveyed his intentions of embarking on a journey to Mauritius for his birthday celebrations (and so unable to attend the event).
"Nevertheless," he affirmed, "he has given me his word that he will make an effort to rearrange his schedule and be present at his grandfather's centenary function."
The other reports indicate that the title and first look of his upcoming film with Koratala Siva will be unveiled on that day.
Whatever be the reason, Jr NTR seems to have chosen to conveniently avoid the event being organized by the TDP and the Nandamuri family.
One cannot forget how Balakrishna deliberately avoided making eye contact with Jr NTR and Kalyan Ram during the recent 10th-day ceremony of Tarka Ratna. Thus Jr NTR is also showing his might and power to the families that ignored him in general but use him politically.