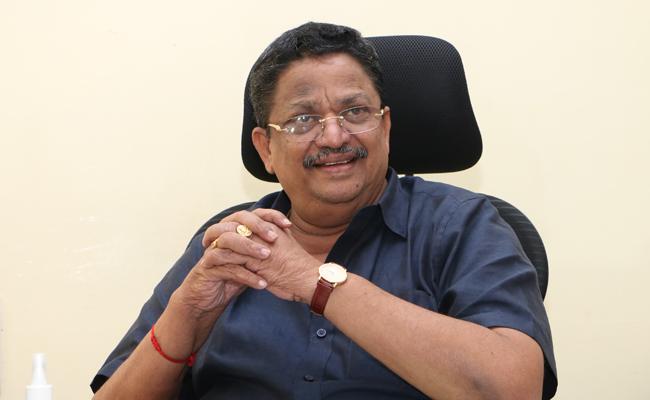 Is Producer C Kalyan is intentionally doing this? Or is he doing it with unnecessary enthusiasm? There is a widespread opinion in the industry circles that the industry is not getting united with his approach but the differences are cropping up.
The interesting thing here is that whenever there is an issue in the industry, C Kalyan's name is heard in the issue.
C. Kalyan made some comments after Balakrishna's response on the Chiranjeevi team and Minister Talasani's meeting. He made comments in such a way that Balayya is not doing any film, so he is not invited. That has become a controversy.
There is another issue that didn't come out. When the meeting conducted by the film celebrities in Chiranjeevi's house with Talasani, they planned to write a letter thanking Andhra CM. They planned to write this letter in response to the government's support in conducting shoots.
C Kalyan has reportedly made a comment at that time that "Who will go there and conduct shoots? We need to spend 10 rupees instead of one rupee".
Though Kalyan made this comment outside Megastar's house, he commented before everybody. This comment said to have reached the key leader in YCP, YV Subba Reddy as per the information.
Meanwhile, Andhra CM Jagan gave an appointment to Tollywood celebs on June 9. They have intimated that a team of 20 members can meet Jagan. Two persons each from the theaters, distributors, producers, studio sectors, two persons from MAA, two from 24 crafts, two from Chamber were made a batallion.
Apart from these people, they have selected Chiranjeevi, Nagarjuna, Mohan Babu, Adi Seshagiri Rao, Vijaya Chander, etc. They have also included Balayya. The megastar has to invite Balayya.
Meanwhile, C Kalyan extended the invitation to Balayya and he declined the offer due to his birthday activities. If he would have intimated the same thing to Megastar, he might have tried to convince him but C. Kalyan has revealed the information to the media. So, the doors are closed for extending the invitation to Balayya.
What are the things on their wish list?
What actually the Tollywood delegation is going to ask Andhra CM? One wish is that they are going to ask the government is to allot them lands for homes, studios, other institutions in Vizag just like Hyderabad.
It is completely a different point that the persons who received lands in Hyderabad should be given lands in Vizag. They will not promise that they will leave Hyderabad and come to Vizag. They will say that they will treat Vizag equally with Hyderabad in terms of shootings and post-production activities.
They will request Jaganmohan Reddy to waive off power bills for movie theaters considering the corona situation. They will also request them to give exemptions to shoot in central government institutions.
There is a ten crores fund lying at the FDC before the partition of AP. This amount has to be distributed to the two Telugu states. These discussions may come during the meeting.
How should they go?
How these 20 member delegation should go to Amaravati is a big question. Adi Seshagiri Rao, Vijay Chandar, Chiranjeevi, Suneel Narang's father, Mohan Babu etc are aged between 65-80. The risk for Coronavirus is high for these people. It is not yet finalized whether they will individually travel to Amaravati or they will go as team.
Click Here for Latest Direct-to-OTT Releases (List Updates Daily)