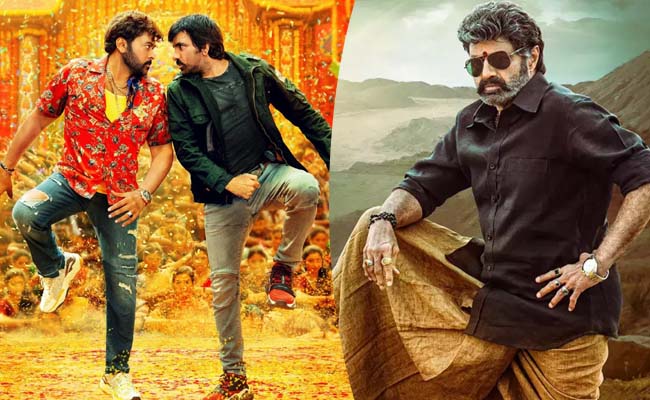 Two big films 'Veera Simha reddy' and 'Waltair Veerayya' were released in this season.
Both the films have crossed the making budgets as the directors kept on increasing with mutual competition.
Though Mythri Movies had initially planned to release the films with a gap of at least three weeks, Balakrishna forcibly brought it to Sankranthi and kept it beside Waltair Veerayya.
This has resulted in extra working days and over cost. Adding to this, Mythri Movies has come up with own distribution in Naizam area.
There was a big uproar when both the films were released with a gap of a single day. No one understood if the collections were genuine.
Only after three days there is some clarity. Waltair Veerayya is the winner, VSR is the runner and Varasudu is a failure.
Mythri Movies sold both the films to regular buyers who paid 70 Cr-75Cr in Andhra Pradesh for both the films with a condition of paying back the GST in case of loss. Had that happened at least Rs 25 Cr would go out from producers towards GST on a whole.
But looking at the trend, producers seem to be safe in that aspect. While both the films were given for Rs 18 Cr in Vizag, already Rs 10 Cr is back.
The films fetched Rs 25 Cr from Naizam already. The other areas are also doing well and so there seems to be no need to bear the GSTs.
It proved to be a right decision to give both the films to the same buyer as the losses of one can be compensated with the other.
In a way Waltair Veerayya is doing better and so it is compensating the slowing down effect of Veera Simha Reddy.
Dil Raju is affected by his ego. All these years, Dil Raju and Asian Sunil used to control the Naizam distribution and the numbers were known only to them. But now Mythri Movies has come into distribution and is seeing the real numbers.
Looking at the trend, the trade analysts are saying that both the films would collectively do more than Rs 40 Cr in Naizam. So now Dil Raju should change the numbers of his future quotes.