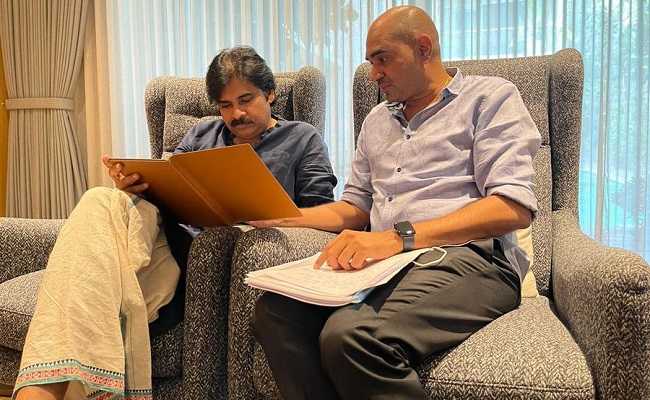 Hari Hara Veera Mallu (HHVM) is the film that is not coming out from the closet.
Much to the shock the films Vakeel Saab and Bheemla Nayak that were agreed upon after this film were already released and left.
In the meanwhile, green signal was given for two more films as well. Pawan Kalyan is getting busy with his political tours from October onwards. Then what is the plight of HHVM?
Pawan Kalyan who fights on injustice caused to the people don't even think about the injustice to producer AM Rathnam.
As per the sources 50% of the shooting of Hari Hara Veera Mallu is still pending. The key action blocks are yet to be completed. It consumes a very long time to complete this stuff.
Nobody knows how many days Pawan should work for this and how long it takes for the shooting and post production activities.
There is another gossip that Pawan is not happy with the outcome of Hari Hara Veera Mallu. It seems that he is now demanding to reduce the heavy action sequences and dances.
Whatever it is, Krish's time seems to be bad. It was said at that time that Krish made NTR Kathanayakudu and Mahanayakudu consuming a lot of time but both failed. Then he made Kondapolam which was ignored by the audience.
Now he is on 'Hari Hara Veera Mallu' and there is a long time ahead to complete this with the blessing of Pawan Kalyan.