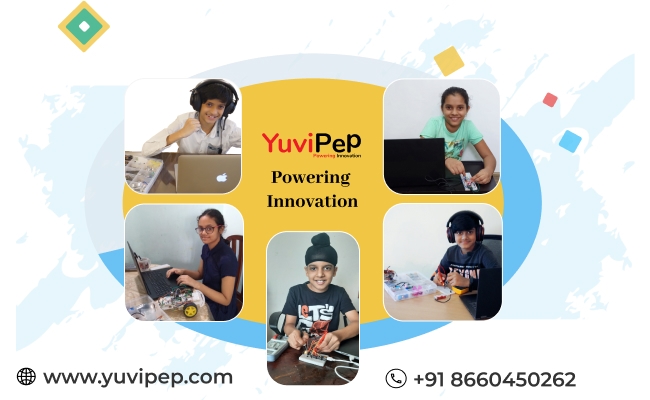 YuviPep's courses trigger creativity, critical thinking, problem-solving and practical skills in students.
The rise of technology has taken over everything and the need to be in tune with the evolving world is a reality today. This trend is also noticed in our education system. Today, school authorities and parents are welcoming the idea of introducing technology to children at an early age.
Students are gearing up with knowledge, skills, and mindset to be challenge-ready in tomorrow's world. Education today is also evolving for the future by incorporating skills and technologies, such as critical thinking, creativity, problem-solving, and more.
YuviPep, a Telaverge initiative, has stepped up and is taking the lead in the field of education.
"We aim at providing a solid foundation for the next generation. Our objective is to provide a platform for students to experience STEM-based concepts with easy-to-understand experiments," says Ns Ajith Kumar, the Chief Program Mentor at YuviPep.
With the help of the next-generation state-of-the-art practical learning methods, YuviPep has helped students learn, grow, and achieve without limits. It has motivated several students by unlocking their full potential and has guided them to strive for excellence.
YuviPep is a product of over 15 Years of Engineering Expertise that is adopted from its parent company Telaverge. The courses from YuviPep are a result of over five Years of Research and Development. It is designed in consultation with IITians and several innovation experts. Today, we are proud to announce that we are partnered with 35+ institutions and have 75+ R&D and subject experts supporting us.
YuviPep's courses are designed to trigger creativity, critical thinking, and problem-solving skills. Indulging in courses that have a bright future will help the children to master it in their growing period. Children can also garner the benefit of learning the subject matters from fellow innovators across the globe.
YuviPep's Innovation Base Course is designed around the STEM concepts and uses the pedagogy method of teaching and learning. These courses are thoughtfully designed to meet the requirements of students in grade 4 and above, to help them evolve into critical thinkers. The Innovation Base Course covers concepts and principles of STEM, Design Thinking, Automation, and Mechatronics.
The range of Innovation Base Courses is conducted by dedicated working professionals who have a strong and live industry experience. This provides students with a great learning opportunity. Classes are conducted online with a focus to keep the learning activity Interactive and fun. Each batch has limited students, which encourages individual attention and progress monitoring.
Students are also provided with a unique state-of-the-art Innovator's kit. It includes all basic components like multi-meter, sensors, development board, and more. This motivates and encourages students to dive in deep to understand the subjects using hands-on experiments.
Periodic workshops and assessments are conducted to track student progress. Interested parents are invited to join and experience the workshop. After every level and workshop completion, a valid certificate will be provided to the students. These certificates hold great value in students' future endeavours, especially when they are applying for higher educational institutions.
The Innovation Base Course will empower students to independently apply the knowledge and come up with practical and workable solutions for real-life challenges. For more information, visit https://yuvipep.com/innovation-course.
"Only Practical Work and Experience Lead the Young to Maturity" - Maria Montessori.
True to the words, today YuviPep is seen as a nexus between theoretical and practical learning. Many students have gained benefits from YuviPep's range of Innovation courses. Here are some of the testimonials from our students.
Aditri, Student, Ryan Global School.
"It is nice to dive in and learn new things. They encourage us to come up with questions and innovative ideas" - Aditri, Student, Ryan Global School.
Pranav B S, Student, Swargarani School.
"I started this program three months ago and let me tell you, it's a cool learning experience. I'm getting a good understanding of how devices around us are working. Never realized that learning science is so interesting. Engineers who are teaching me are good and they teach very well. They give time and help us irrespective of how many times we ask" - Pranav B S, Student, Swargarani School.
Join us to garner a great learning experience and help children accelerate their skill acquisition in the age of intelligent technologies.
For more information contact us on:
Call or WhatsApp: 8660450262
Email: [email protected]
Website: www.yuvipep.com
You can view Introductory videos on YuviPep's Innovation Base Course:
- https://www.youtube.com/watch?v=WCjf2i-ITlQ
- https://youtu.be/XO0pYZpQWtE
Content Produced by Indian Clicks, LLC