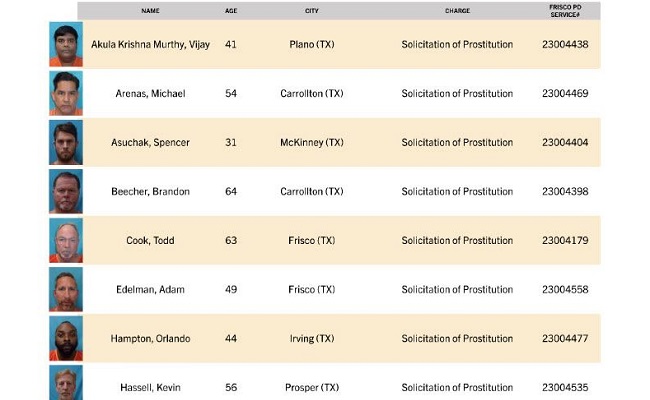 The involvement of at least three Telugus in the prostitution racket at Dallas has not only brought shame to the entire Telugu community in the US, but also damaged the country's reputation.
According to federal officials in the Dallas branch of Homeland Security Investigations, the police arrested 46 men at various hotels in Frisco and Southlake as part of multi-agency prostitution sting operation.
The arrested included a volunteer firefighter, youth pastor, high school teacher and coach, semi-professional hockey player, and the director of operations for a large hospital network in North Texas.
Of them, five persons turned out to be Indians – identified as Ronak Patel, Vijay Akula Krishna Murthy, Rahul Malviya, Anil Vemulapalli and Santosh Gorla. Needless to say, three of them are Telugus.
According to sources, some groups from the Telugu community have been indulging in various activities that brought a bad name to the entire community.
"They take out rallies and behave cheaply. They were the ones who created a big nuisance in the theatre screening Nandamuri Balakrishna's latest film Veerasimha Reddy, forcing the authorities to stop screening and warn the audiences," a source said.
The Dallas DHS Office said what the suspects do exploits and victimizes trafficking victims.
One non-profit working to help sex trafficking victims said the DFW Metroplex is a hot spot for it because of its size and highway system to other parts of the country.
They said there isn't anything thing typical about a human trafficking suspect, as it can be almost anyone.
Frisco police said during the operation and following the investigation, they found no evidence of local underage sex trafficking.
"It's happening more than people think and know," said Dr. Tonya Stafford Manning, who runs It's Going to be OK, which is a Dallas-based non-profit organization that assists human trafficking victims.
The dozens of men charged responded to online advertisements for prostitution, according to the Department of Homeland Security.
But instead of communicating with women being trafficked, they were unknowingly communicating with law enforcement.
Meet-ups were arranged at hotels with the coordination and cooperation of hotel management and staff.