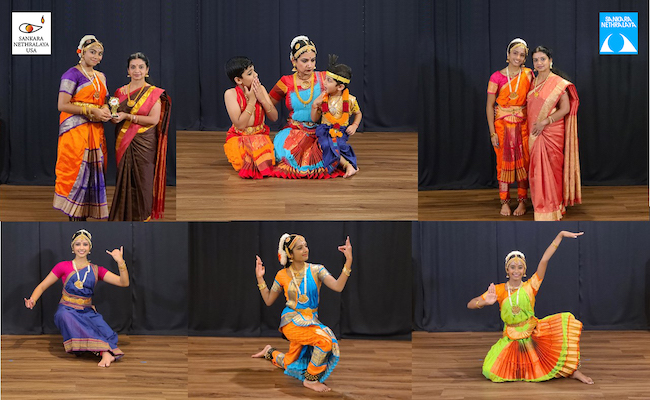 Sankara Nethralaya's Newark Delaware Chapter is a grand success.
Sankara Nethralaya USA is a not-for-profit charity organization providing ophthalmic (eye) care throughout India. For the last 4 decades, SN has treated millions of indigent blind patients.
In the month of September for 2 weekends Sankara Nethralaya name resounded across the Delaware Indian population. Sankara Nethralaya Trustees Piram Manickavasagam and Ravi Maraka worked with Smt. Indhumadhi Gopalakrishnan, artistic director of Salangai School of Performing arts and hosted this grand kickoff event for Sankara Nethralaya Delaware Chapter.
It was a unique and bold move by Salangai School of Performing arts to have their annual event as a virtual event. 75 performers participated in this event which had a reach of more than 3000 people on Facebook and helped to raise significant donations.
Sankara Nethralaya President Emeritus S.V Acharya addressed the audience before the Bharathanatyam program and noted about Sankara Nethralaya fundraiser events, how they leveraged mobile eye surgical units and thanked Salangai School of Performing arts students and Guru. Indhumadhi Gopalakrishnan for hosting the event for a noble cause.
Right after the address magic behind the classical art form began to unfold one after the other. It was a treat to watch the kids in traditional Indian classical dance costumes perform for vibrant and beautiful choreography. It is also noteworthy to mention some of the performers were first timers and they have been learning the dance only through virtual sessions and with just a couple of in person practice sessions the kids were able to perform in this grand event.
Senior students Adithi Jonnagadla, Praharshitha Nagraj, Pooja Guduguntala and Sreenidhi Das gave a solo performance. Priya Jeyakumar, past student of Salangai School who completed her arrangetram in 2019 also gave a solo performance in this event. Their passion, hard work and discipline in learning the classical dance for several years showed up in their performances.
Final day of performance included a dance presentation on Lord Krishna by Guru Indhumadhi Gopalakrishnan and her son and disciple Akshath Piram and Yashwath Piram. This section had 4 songs in three different languages - Telugu, Tamil and Kanada.
First performance of this section stole most people's hearts in which a 3 year old boy (little Krishna) entered the scene dancing along with his mom with cute moves and mischievous smile. Next performance was for a song Aadithano Ranga which aptly captured the episode of clash between Serpent King Kalinga and lord Krishna followed by a Varnam depicting Krishna and Sudama friendship and gajendra moksham tales. 'Varnam' is considered a difficult piece in Bharathanatyam and Akshath Piram performing a Varnam at 10 year old with at most perfection received raving reviews.
Final performance of the event was a riveting dance performance by mother son duo – Guru Indhumadhi Gopalakrishnan and her son Akshath Piram for a Mahabaratha Sabdam. Mahabaratha Sabdam portrayed one of the most iconic scenes, in which Yudhishthira rolls away his possessions, his kingdom, his brothers, and even his own freedom, though Krishna's protection saves his wife from total humiliation. This is the most intense scene in Mahabaratham and to do justice to this scene is a challenging task. But the duo completely transformed themselves into their characters and gave a powerful performance that sure did touch viewer's emotions and did win their hearts.
The event concluded with a Thank you note in which Salangai School director thanked all participants and their parents, Guru's Legend Mudurai R Muralidharan, Guru Dr. Ratheesh Babu and Guru Smt. Supriya Ravikumar and all friends and families who supported the event.
President Bala Reddy Indurti, Vice President Moorthy Rekapalli, Secretary Srinivas Ganagoni thanked all the Trustees and Volunteers who are working selflessly to restore vision for indigent patients.
Bala Indurti worked with local trustees Piram Manickavasagam and Ravi Maraka to launch the Newark Delaware Chapter. Thanks are due to Board of Trustees Shankar Setty and Dr. Raj Modi from nearby states for their unconditional support. Thanks are due to Board of Trustee Shyam Appali, Theagarajan for making video and flyers to the event.
Thanks are due to media partners SakshiTV, manaTV, TVAsia, TV5, GNN, US1, and Tori for promoting Sankara Nethralaya activities.
During the pandemic we have conducted the following virtual events to bring the awareness and help the indigent blind patients.
- Nataraja Natyanjali's 100 days of kuchipudi dance programs
- A Jagannathan Memorial Series of concerts for one year
- Satadina Swararchana semi classical music programs
- Jay Kannan concert
- Natyothsava

Please watch Child prodigy Ms Uthara Unnikrishnan virtual program in your favorite TV channels, and social media, and www.SankaraNethralayaUSA.org on Sunday the October 24th.
Sankara Nethralaya is one of the 4 best ophthalmic institutions and one of the 100 best hospitals in the World per Newsweek. Sankara Nethralaya OM (Ophthalmic Mission) Trust is based in USA and has received the highest rating of four stars by charity navigator for maintaining the transparency for funds donated by donors and how they are utilized towards a noble cause.
Please extend your support for this noble cause of eradicating preventable blindness by contributing at https://www.SankaraNethralayaUSA.org/
Content Produced by Indian Clicks, LLC