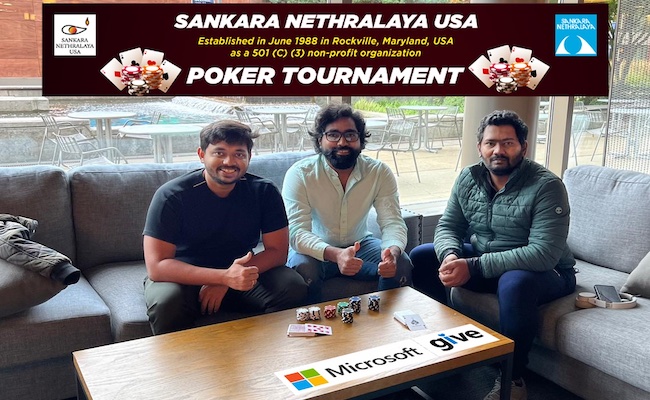 Sankara Nethralaya USA is a not-for-profit charity organization providing ophthalmic (eye) care throughout India. For the last 4 decades, SN has treated millions of indigent blind patients.
During the month of October, Microsoft organizes the Give campaign. In this month, Microsoft encourages its employees to contribute to various causes and supports thousands of non-profit organizations across the globe. Microsoft matches 100% of the employees' contribution and volunteer hours during this month to promote philanthropy across the organization.
Sankara Nethralaya USA Seattle Team Vishwanadha Goli, Praveen Vuppuluri, and Soma Jagadeesh came together to raise funds through a poker Tournament. With Microsoft matching and volunteer hours, this event generated $31K which will sponsor 500 cataract surgeries for indigent patients.
Every year Sankara Nethralaya is conducting one Poker Tournament with Microsoft Give program in October. This year under the leadership of Board of Trustee Soma Jagadeesh Seattle team organized 2 poker tournaments.
President Bala Reddy Indurti, President Emeritus SV Acharya, and Vice President Moorthy Rekapalli thanked all the Trustees and Volunteers who are working selflessly to restore vision for indigent patients.
Sankara Nethralaya USA wants to take this opportunity to thank Microsoft and all the individuals who came together to make this a great success. We have conducted the games in 2 different days during month of October to contribute for the noble cause as per the feedback and response from last year participants this year we have 102 players supported this cause. Special thanks to top donor Khushboo Chandrachud, winners of the tournament are Zhenghong, Gargee Sharma, Scott Seiber, Khushboo Chandrachud and Brian Conley.
We have rewarded top donor and winners with encouraging electronic products for their contribution and support to noble cause. We will continue working towards the growth of volunteer organization by including more volunteers in coming future with more programs to evangelize about Sankara Nethralaya Activities.
Thanks are due to media partners SakshiTV, manaTV, TVAsia, TV5, GNN, US1, and Tori for promoting Sankara Nethralaya activities.
During the pandemic we have conducted the following virtual events to bring the awareness and help the indigent blind patients.
- Nataraja Natyanjali's 100 days of kuchipudi dance programs
- A Jagannathan Memorial Series of concerts for one year
- Satadina Swararchana semi classical music programs
- Jay Kannan concert
- Natyothsava
Please watch Child prodigy Ms Uthara Unnikrishnan virtual program in your favorite TV channels, and social media, and www.SankaraNethralayaUSA.org on October 24th.
Sankara Nethralaya is one of the 4 best ophthalmic institutions and one of the 100 best hospitals in the World per Newsweek. Sankara Nethralaya OM (Ophthalmic Mission) Trust is based in USA and has received the highest rating of four stars by charity navigator for maintaining the transparency for funds donated by donors and how they are utilized towards a noble cause.
Please extend your support for this noble cause of eradicating preventable blindness by contributing at https://www.SankaraNethralayaUSA.org/
Content Produced by Indian Clicks, LLC