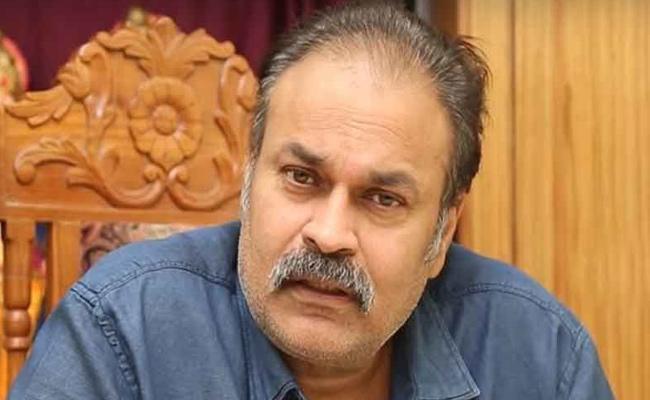 Dear Sri Nagababu, thanks for clarifying that your Godse statement is purely personal and does not relate to Janasena party. You may blame us for unnecessarily linking this statement to current Janasena's political bonhomie with BJP. But consider the number of roles you play simultaneously. You are an actor, writer, producer, star-father, TV host, political activist and also an important functionary in now defunct Praja Rajyam and Janasena.
We do not know which hat you were wearing at the time of writing this piece and hence the confusion. Henceforth, for every tweet, please give the byline viz. Nagababu, the actor/ member of Mega family/citizen/Janasena leader etc. Had you tweeted same statement on last year's birth anniversary, we would have thought you are a true Godse-fan, like many of the front rankers in BJP. But last year around the same time, you were fighting against BJP candidate in Narsapuram among others.
The Jansena-BJP marriage took place this year. From then on your party chief never misses a chance to praise BJP leadership to skies. He criticizes AP government for opening wine shops but does not say a word against the center, which has permitted it. He conveniently forgets that inter-state migrant labour is central subject as per constitution and blames AP government for not providing enough succour to them. In this context, it was but natural for the public to consider your political affiliation while interpretating your Godse statement.
Now you say that it was a purely personal homage to Godse, who was a patriot in your view. I know that in "Zabardust" you were judging contestants' talents in crude comedy and now it seems you are graduated to judge patriotism in individuals too. Earlier, communists used to judge who is a secularist or who is not. Nowadays, BJP is judging whether someone is patriot or not. Now you joined the ranks, wearing a new hat. Fine!
Pray tell me how did you judge Godse a patriot. Did he fight against British? When lacs of ordinary citizens, soldiers of non-violent movement, went to jail, was he one of themt? Since he believed in violent methods unlike them, one might think he did not go to jail, but instead killed or fired at some British governor or a collector or even a magistrate. As far as I know, he shot none of them but shot at one of the greatest freedom fighters who made British flee from India.
You have respect for Gandhi, you clarified. In what, respect, may I ask. If you find him a patriot, obviously you cannot digest a 'patriot' like Godse killing another patriot. Had Godse killed Jinnah or any other Muslim League leader who caused division of the country, I would not be surprised at your labelling Godse as a patriot.
Godse was a Hindu activist, having worked for socio-religious organizations RSS and Hindu Maha Sabha. If you lauded him a great "Hindu", as a follower of that brand of Hindutva, I would not have been shocked. But you called him true patriot and there lies the rub. You also said "whether his killing of Gandhi is correct or not is debatable." All of us agree that supporting or opposing Gandhi, or for that matter anyone, is debatable. But you feel even killing someone for his political viewpoint is open for debate. And you are participating in democratic process of elections! I commend voters of Narsapuram for their ability to see through you.
It is generally believed that you are a well-read man. I wondered how you missed the logic of the then media's restrain while reporting Godse's version. After Indira Gandhi's death, several innocent Sikhs were killed by angry mobs because the assassins happened to belong to that religion. Similarly, after Gandhi's death, several attacks took place on Maharashtrian Brahmins, the community Godse belonged to and their houses were ransacked.
Government did not impose any censor but media took it upon its shoulders not to report Godse's argument extensively lest it raises communal tension and atrocities on Godse's community. But the records were not destroyed by government and the facts were not suppressed. Once situation came under control, everything came out in print and Godse's arguments in favour of his heinous crime are available for general public.
Well, Sri Nagababu, you are an Indian citizen enjoying the freedom of expression. You can hail or even worship Godse. No issue. But please remember that the democracy you are enjoying is the fruit of labours of many freedom fighters led by Gandhi, who was brutally killed by your hero, Godse!
Written By M.
Click Here for Latest Direct-to-OTT Releases (List Updates Daily)