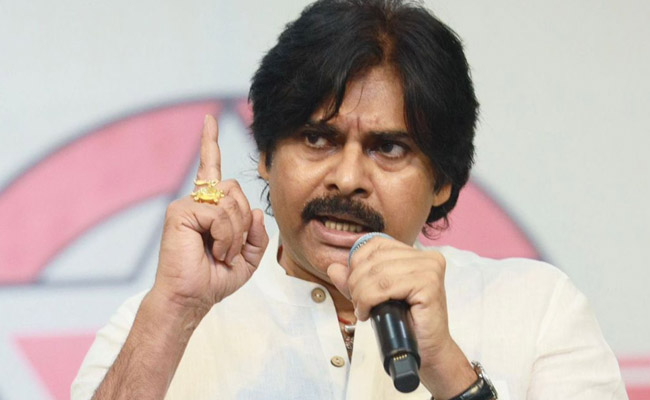 Kapus view Pawan Kalyan as their leader, but the question arises: is he truly suited for this role?
How much have Kapus benefited from Pawan Kalyan's leadership? Has he made a significant impact on the lives of underprivileged Kapus?
We are well aware of Mudragada Padmanabham's relentless struggle for Kapus through the Kapu Garjana movement. During Chandrababu's tenure, the Andhra Pradesh police used a heavy hand to suppress Padmanabham and his family, thwarting the movement. Surprisingly, Pawan Kalyan did not step in to support or stand in solidarity with Padmanabham during that challenging period.
Let's also examine Pawan Kalyan's approach with producers. He promptly finishes films for producers of other castes but leaves his fellow Kapu producer, AM Ratnam, waiting when their film is halfway through production. Ratnam is still facing difficulties in completing the film "Hari Hara Veera Mallu."
Pawan Kalyan's close political associate is Nadendla Manohar, a Kamma, and his close associate in the film industry is Trivikram, a Brahmin. It's evident that these two individuals have profited significantly from their relationships with Pawan Kalyan. However, the question remains: has any Kapu been able to achieve such success through his association with him?
Pawan Kalyan appears to have a preference for individuals who are not necessarily known for their intelligence or knowledge among Kapus. He briefly associated with Raju Ravi Teja but distanced himself, seemingly uncomfortable with Raju Ravi Teja's intelligence and individuality. Dileep Sunkara, who possesses the qualifications to serve as the official spokesperson of Janasena, was never given the opportunity.
It's worth noting that two out of three women Pawan Kalyan married in his life are non-Kapus. Furthermore, within his family, there are Reddy and Kamma women. This raises questions about Pawan Kalyan's stance on caste, as he appears to selectively ignore Kapus. The reasons behind his apparent disfavor toward Kapus remain unclear.
Additionally, Pawan Kalyan has been selective in his criticism, targeting specific Kapus such as Perni Nani, Gudivada Amarnath, and Kannababu of YSRCP. This contrasts with Chandrababu, who rarely criticizes Kammas from other parties, choosing instead to focus on the YSRCP as a whole. He didnt even openly criticise Kodali nani or Vallabhaneni vamshi though they kept on attacking him verbally. But Pawan has no such heart or mind!
This phenomenon is not unique to Pawan Kalyan; even Chiranjeevi displayed a similar attitude in the past. When Chiranjeevi launched the PRP, even when his close aides suggested he initially hesitated to grant seats to his fans, believing that fans should remain fans, cheering in theaters, without being given more prominence. Eventually, he reluctantly granted a seat to one fan.
This "Kapu factor" appears to be ingrained in the Konidela family's mindset. While Kapus may support Pawan Kalyan with the hope of seeing a Kapu Chief Minister in Andhra Pradesh, it is essential to recognize that Pawan may not share the same Kapu identity at heart and mind. Therefore, it might be time for Kapus to reconsider their unwavering support for him.
I would like to express myself in a poem-
Kapus hope Pawan's leadership will thrive,
But do their lives through him truly revive?
Padmanabham's struggle faced brutal strife,
Yet Pawan's support was absent, causing some strife.
In films and politics, a pattern emerges,
Selective preferences, and Kapus bear the surges.
Caste questions linger, raising doubts high,
Kapus must reconsider Pawan, as time passes by.
Madhunandan Akkishetty