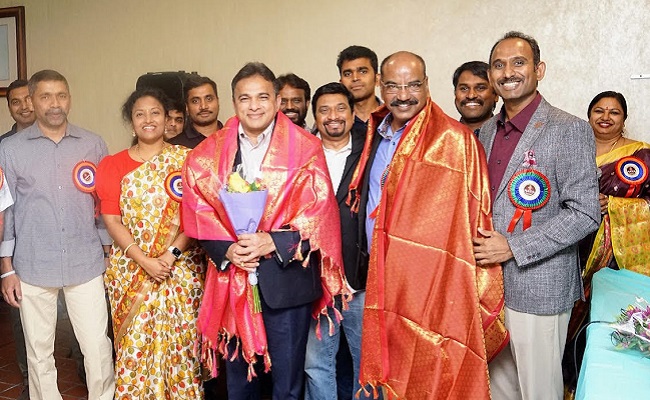 NATA leadership is leaving no stone unturned to ensure their upcoming convention is a BIG success! NATA President was visiting NATA Secretary Narayana Reddy Gandra's hometown of Austin, TX where NATA Austin committee members and all the donors, sponsors met at Indian delights restaurant for a fundraising event for the upcoming NATA convention 2023!
As the readers are aware the convention is going to be held on June 30th, July 1st and July 2nd in Dallas convention center. NATA President Dr. Sridhar Korsapati and NATA Secretary Narayan Reddy Gandra and Convention Deputy Coordinator Mallik Avula, Jaganmohan Reddy Munagala, Board of Director, NRI Committee chair Konda Reddy were leading the efforts.
Dr. Sridhar Korsapati speaking at the occasion, invited the entire Austin Telugu community to attend the convention and not to miss out on such an amazing experience! He highlighted some of the programs that includes musical concerts on all 3 days, CME medical seminars, extravagant cultural programs, Srinivasa Kalyanam by TTD priests, NATA beauty pageant, NATA Idol, women seminars and much more! He also emphasized on how we should relay the culture to the next generations, stand collectively as one voice to support and uplift each other. Dr. Sridhar Korsapati was gratified by the amount of support that exceed everyone's expectations by raising over $260K from the Austin Telugu community. He then thanked the entire NATA Austin team, its members under NATA Secretary Narayana Reddy Gandra leadership.
Speaking at the event, NATA Secretary Narayana Reddy spoke and thanked all the donors and felt thankful for being with NATA over the years and reiterated that NATA would continue to do great things with the help of dedicated volunteers and the unwavering support of the donors. He then outlined the recent successful events such as NATA Membership drive & NATA Austin Women's Day event.
Deputy Coordinator for NATA Dallas Convention and TTD Kalyanam Chair Mallik Avula talked about the convention preparations, progress, and logistics. He conveyed his gratitude to all the Austin donors, sponsors, and the NATA Austin team for supporting the convention fundraising event.
Lavanya Reddy NATA IDOL national lead & Banquet Committee Cochair talked about the NATA IDOL event preparations including the Austin regional event which is scheduled on June 24th.
Miss NATA National lead & Women's Committee Cochair Lakshmi Kommuri updated the attendees about the Miss-NATA event preparations including Austin regional event which is scheduled on June 24th.
Leading the arrangements and the fundraising event were Jaganmohan Reddy Munagala, Board of Director, Standing Committee Chairs Konda Reddy Dwarasala, Pravardhan Reddy Chimmula & Lavanya Reddy, Regional Vice Presidents Hemanth Balla, Vijay Reddy & Raji Rayaprolu, Regional Coordinators Lakshmi Kommuri, Raghava Reddy, Ravi Burujula, Prasanna Pentakota, Rohini, Kamalakar Ponaka.
The organizers later thanked all volunteers, donors, sponsors, TCA, ATA & TANA leadership who attend this event and showed their unified support.