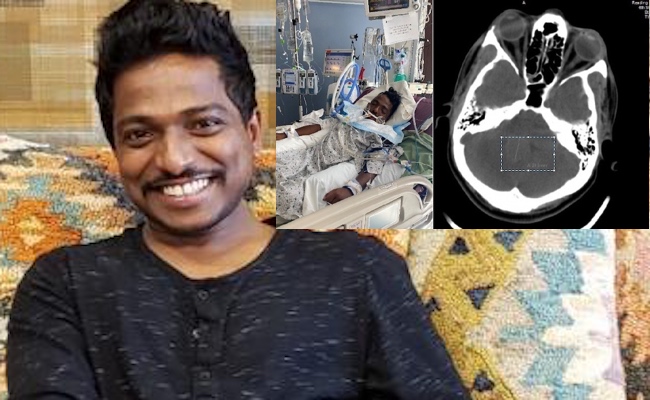 On July 19th, my brother Tilak Myla suffered a Brain hemorrhage and since been battling for his life in Reading Hospital - Tower Health, Pennsylvania.
He has AVM (Arteriovenous Malformation) rupture and have severe bleeding near his cerebellum causing hydrocephalus and have swelling in his brain and is under EVD (External ventricular drain).
His swelling and the ICP (Intracranial pressure) has to come down until he is treated for the AVM. Doctors are waiting for his swelling to come down to treat his AVM rupture as treating now is not recommended when the swelling is in place as doctors won't be able to decide what would be the further step.
He has gone through different procedures like the Drain on his right side of his brain (EVD) and tracheotomy (Ventilator through windpipe) and Central IV line in neck (IV therapy used for a long time), angiogram to check his internal AVM rupture. MRI will be taken once ICP is down.
Kindly support Tilak Myla by Clicking this Link to Donate.
His ICP is still high, and he is on tilt position for his ICP to be in control, doctors will observe and will treat him based on his condition.
Tilak is a working software professional in Malvern, Pennsylvania and a student pursuing his MBA.
His insurance plan wouldn't cover all the expenses for the treatment & long-term care he needs. So, we kindly request everyone to please help us in any way possible.
All donations are sincerely appreciated, Kindly Donate Online using this GoFundMe Link.
He is good at heart and a very active person you would meet, full of love, care and compassion for everyone. He is a very kind-hearted person and always ready to help everyone possible. My parents and our family are heartbroken with incredible grief.
My name is Ravi Myla & I have organized this campaign to help my younger brother. All the funds raised will be used for my brothers treatment, rehabilitation, care & recovery.
Contributing (CLICK HERE) to this fund is the most useful form of support we all can offer.
Thank You for Supporting Tilak Myla Fight Brain Hemorrhage!
P.S. Please share this campaign on social media and with your friends and family - Tilak needs all the help he can get right now.
Yours truly,
Tilak's Family and Friends.
Press release by: Indian Clicks, LLC