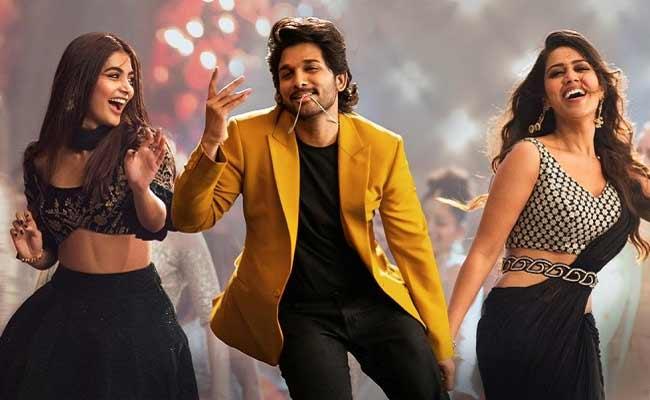 Movie: Ala Vaikunthapurramloo
Rating: 3/5
Banner: Haarika Haasine and Geetha Arts
Cast: Allu Arjun, Pooja Hegde, Tabu, Sushanth, Navdeep, Jayaram, Rahul Ramakrishna, and others
Music: Thaman S
Cinematography: PS Vinod
Editing: Naveen Nooli
Art: AS Prakash
Fights: Ram Laxman
Producers: S Radha Krishna, Allu Aravind
Written and Directed by: Trivikram
Release date: Jan 12, 2020
No film has generated as much buzz as "Ala Vaikunthapurramloo" did in recent times thanks to its viral songs.
The film's music created huge euphoria around this movie that saw the hit combination of Trivikram and Allu Arjun teaming up for the third time. Amidst high expectations, the film is here.
Let's find out whether it meets those expectations or not.
Story:
To give his son a better life, a middle-class father (Murali Sharma) swaps his newborn son with a boy born to a wealthy family. Years pass, the story begins at the present day.
Bantu (Allu Arjun) is raised as a middle-class boy and Raju (Sushanth) as the rich kid. Bantu finally gets a job in a travel agency and Pooja is his boss who later becomes his girlfriend.
In a sudden twist, he comes to know the secret of his birth that he's the son of Ramachandra and his wife (Jayaram and Tabu). What is his next step?
Artistes' Performances:
Allu Arjun has given his career-best performance. After the flop of 'Naa Peru Surya', he took a year gap and reinvented himself. While his chirpy attitude is known to all, he is shown so-much maturity in emotional sequences. His dance steps mimicking top stars also have worked well.
After Allu Arjun, it is Murali Sharma who scores with his performance. As a greedy father, Murali Sharma has given the best act.
Malayalam actor Jayaram too gets the best scenes and he excels at. Tabu, however, gets a raw deal, she plays a very regular role.
Sushanth gets only one best scene in the second half, most of the time he remains passive. There are a host of actors to fill the 'screen' but have little importance.
Technical Excellence:
Thaman's music is the major highlight. Even before the movie's release, his songs have struck a chord with the audiences. They have gone viral. On the screen, "Ramulo Ramulaa" and "Butta Bomma" songs stand out, both are filmed with a lot of care and with high energy.
Much of the film happens in limited locations and the artwork and cinematography are pleasant. Editing is okay.
Highlights:
Allu Arjun's performance
Music
Decent entertainment
Emotional second half
Drawback:
Slow pace
Regular Story
Analysis
After directing a serious themed film 'Aravindha Sametha', Trivikram has returned to his original brand – narrating stories with family emotions. Like in scores of his other movies, the film is all about the protagonist's homecoming or mending the family issues.
The basic structure and sequences remind us of his old movies but he has given a fresh twist to the family drama, the packaging is pleasant, both to ears and the eyes.
A guy who is born to rich parents is raised at the middle-class family and the middle-class baby is sent to a rich family. So, the real 'varasudu' of the rich family would eventually have to claim his position. But can he do? This is a simple plot but the master writer Trivikram has presented this thin storyline entertainingly and emotionally.
He keeps the suspense till the end and makes us guess whether Allu Arjun would reveal the secret of his birth to his original parents or not. This is where Trivikram has succeeded in a big way.
Since the story is paper-thin, he has packaged the movie with simple humorous scenes and right emotional moments and more importantly with a superlative musical track. The songs have worked great in the film as well.
The film goes at a slow pace in the beginning. The first half is barely okay. But Trivikram makes sure that we get entertained and ends the film with an emotional bang at the interval.
The second half is where he puts in his brain by carefully balancing both the entertainment, action, and emotions. He has slowly revealed why there is a gap between Tabu and her husband Jayaram. This scene was a good emotional one. Only Trivikram can handle such scenes.
Then he introduces a fight followed by an entertaining scene in a boardroom. Here Allu Arjun imitates several top stars and dances in their style. And the climax is beautifully done.
One episode after the other goes at a good pace making the film an enjoyable experience.
The film has many issues as well. First and foremost, many scenes remind Trivikram's old movies. And the so-called entertaining scenes lack originality. Many actors don't have proper characterization either.
However, the overall neat packaging with high emotional content, family entertainment, and the music overweigh these issues and make this an engaging and entertaining watch.
On the whole, "Ala Vaikunthapurramloo" is a perfect family-viewing movie for this Sankranthi festival.
Bottom-line: Family Treat