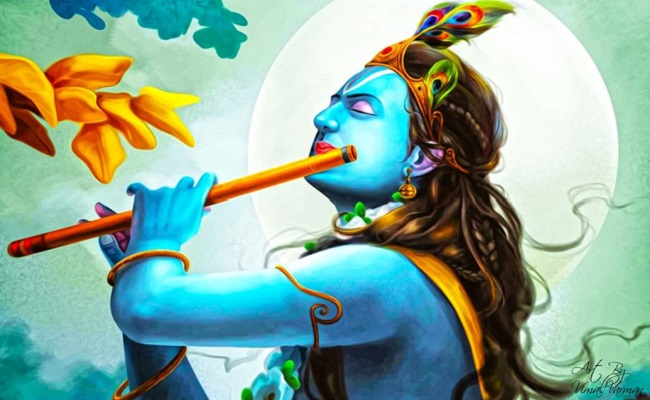 It is Corona time. It is a global catastrophe. At this juncture, Telugu film lyricist Sira Sri has raised a point and drawn an analogy to an episode in Mahabharata with the title "Lord Krishna's Funeral".
The post has gone viral and it is doing rounds in WhatsApp groups. Let's have a look at the English translation of it.
Several people leave this world. The world witnesses several deaths each and every second. Natural deaths/other deaths will not give a break because of COVID -19 or lockdown restrictions.
A person may be a legend or may have many well-wishers, he may be famous, he may be a film celebrity or may be a politician, but if he breathes his last during the lockdown period, the situation of his family members is looked with pity. They too may question themselves,
"What is this situation? How painful and disrespectful it is to go ahead with the funeral without the presence of near and dear at least ten in number?" Many people are worried now in these hard times. It is quite natural.
Adding to these woes, all the sons and daughters of some people are living in foreign countries. None of them can come here during this lockdown.
So, as a token of respect towards such families, I feel it is right time to discuss the topic of Sri Krishna's funeral from Mausala Parva of Mahabharata.
It was Dwaraka.
Tapovan was very far from Dwaraka.
Sri Krishna was in Tapovan doing penance.
His father Vasudeva passed away in Dwaraka at that time. They had to perform his final rites immediately. Balarama was also not present in Dwaraka then. Arjuna has taken up the responsibility and performed the final rites in the presence of all the relatives.
As soon as he completed the rites, he began his journey towards Tapovan along with two or three people to inform the news to Sri Krishna. He searched each and every inch of Tapovan for two days to meet Sri Krishna.
Finally, the search ended. But what he found was life-less Sri Krishna..! Arjuna was dumbstruck. He cried uncontrollably. He even went to the extent of convincing his mind that it is not Sri Krishna but someone else.
Arjuna's charioteer and two-three other people tried to console him.
It has already been 4-5 days Sri Krishna left his body in that Tapovan forest, hit by a hunter's arrow on his leg. (Just like the present corona, "musalam" was born in Yadava clan for their destruction-- that's a different story.. not discussing here).
As he can't take the body to Dwaraka (Because Dwaraka was ready to get submerged in the ocean), he performed Sri Krishna's final rites all alone, within half an hour, without any fanfare and other things. The spectators of that cremation were less than 10 people including a few local tribals.
Sri Krishna had eight wives, eighty children, several grandchildren, uncountable well-wishers, unmatched fame but none of them were present at his final rites.
His brother-in-law has performed the final rites which was never planned before.
Sri Krishna's father had two sons, but his final rites were not performed by them.
Epic characters like Sri Krishna, Vasudeva couldn't escape such a departure from the world.
This is an example that the deaths of great people become a message, a solace, a right-path for common people over a period of time.
Someday, we have to leave this world. No one can tell how and when the fate decides our exit.
The episode of Sri Krishna's final rites may give the strength and solace to the people who lost their near and dear during this corona lockdown period -SiraSri"
True. Many people need this kind of solace at present.