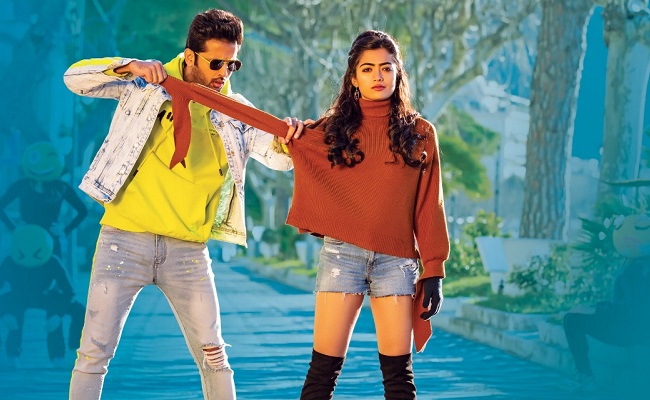 Movie: Bheeshma
Rating: 3/5
Banner: Sithara Entertainments
Cast: Nithin, Rashmika Mandanna, Ananth Nag, Vennela Kishore, Brahmaji, Avanthika Mishra, Jisshu Sengupta and others
Music: Mahati Swara Sagar
Cinematography: Sai Sriram
Editor: Navin Nooli
Producer: Suryadevara Naga Vamsi
Written and Directed by: Venky Kudumula
Release date: Feb 21, 2020
The hot chemistry between Nithin and Rashmika and a well-packaged trailer turned all eyes on "Bheeshma". The high-pitch promotions have generated good expectations and there is no big competition for this movie either.
Let's find out how this film has fared up on the silver screen.
Story:
Bheeshma (Nithin), a frustrated single guy desperately looking for a girlfriend gets floored by the irresistible beauty Chaitra (Rashmika) who works in the Bheeshma Organics company.
The fun-spirited Bheeshma's life gets changed when a huge responsibility is bestowed on him to prove he's the worthy successor to lead the empire of Bheeshma organics, a seeds company run by Bheeshma (Ananth Nag).
Why did the businessman Bheeshma select a college dropout Bheeshma as the operational CEO?
Artistes' Performances:
After a long gap, Nithin has done a character that is funny. This is a role that has a blend of fun and mass elements. There is an action-angle as well and Nithin is convincing in this part as well. He is more at ease in comedy episodes.
Rashmika has looked beautiful and her chemistry with Nithin is one of the highlights. She has done some mass steps in 'Whatte Beauty' song.
Kannada senior actor Ananth Nag as a company owner with moral values is perfect while Jishu Sengupta (who appeared as the villain in recently released 'Aswathama) as the corporate bad seed is apt.
Sampath as Rashmika's father provides some good laughs as well. Vennela Kishore's comedy works again. Brahmaji and Naresh are okay. Ajay and Hebbah appear in surprising roles.
Technical Excellence:
Richness is dominated on the screen throughout the movie thanks to the excellent cinematography by Sai Sriram and the production values.
Music by Mahati Sagar is average. "Singlee" and" Whatte Beauty" are the best of the lot. Editing is neat.
Highlights:
Comedy portions
Sampath and Nithin's WhatsApp chat
Nithin and Rashmika's chemistry
Second Half
Drawback:
Tacky beginning portions
Some routine stuff
Analysis
Director Venky Kudumula in his second directorial has played a safe game. Like in his debut movie "Chalo", his focus is on the fun quotient.
An issue of the clash between organic agriculture company and a greedy seeds company is there to talk about in the plotline, but the structure of the film has remained the same as in regular commercial entertainers.
Venky Kudumula has packaged the film with comedy elements and romantic thread to supersede over the main plot. By providing a good supply of comedy scenes till the end, he has made sure that audiences get entertained.
The film begins on a shaky note. The usual corporate clashes, hero failing in his love life and hero falling for the heroine's beauty are narrated in a dull manner.
When we start feeling bore, the director throws a surprise with a hilarious comedy scene between Sampath and Nithin that brings the house down.
From there, the film treads the path of entertainment. While the interval bang was simple, the second half really gets into the act with the fun twist.
The comedy has worked more here - be it the tunnel episode that has Nithin, Rashmika, Vennela Kishore and Raghu Babu or Nithin's Balloon scene or Vennela Kishore lines or Ajay's 300 Bedroom scene.
More than the story and screenplay, the film works because of its time pass entertainment. Since Nithin has played the role of Meme creator, the director has cleverly used some Whatsapp forward jokes and rhyme dialogues to create fun. He has even used the end credits to generate comedy.
On the downside, the screenplay is too predictable and the initial portions are too dull. Also, the reasoning of Ananth Nag selecting Nithin as his successor is unconvincing and far from the logic.
Overall, 'Bheeshma' is sprinkled with a good dose of comedy in the second half. It provides time pass moments. It is a lighter vein romantic-comedy.
Bottom-line: Well-packaged entertainer