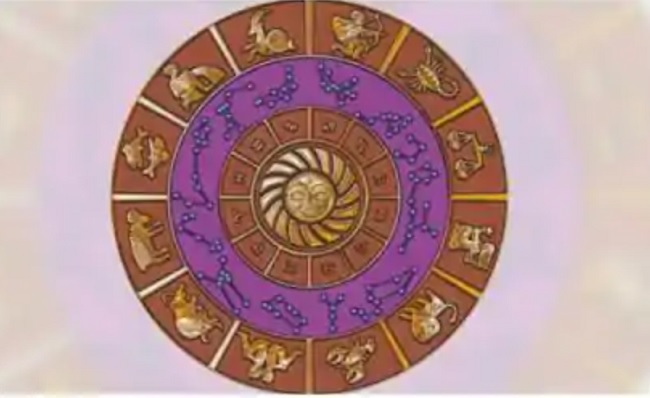 Here is a guide to the week ahead for you. This is your forecast for April 12-18.
ARIES: You are likely to focus on improving your physical appearance and personality which will help you gain self-confidence. You will be co-operative and flexible which will improve your reputation in your social circle. Professionally, this is a good period to undertake journeys. You will be able to utilise your resources to their full potential which will improve your productivity and performance at the workplace. Those individuals working in the fields of creativity, media or film industry may find this period quite supporting. Lovers are likely to experience bliss, happiness and harmony in their love life. Married couples are also likely to see their relationship strengthening. Singles may get an opportunity to enter into a new romantic relationship.
Tip of the week: Invest in yourself
TAURUS: You will be filled with energy and enthusiasm and may feel an urge to start something new. However, you need to put in consistent efforts to bear the fruits of it in the long run. Working professionals may get some opportunities to work and settle abroad or get a chance to visit a foreign country. In terms of finances, do not go overboard to spend, otherwise, you may end up borrowing money, which might be difficult to repay later. You will be able to spend quality time with your beloved, which will further strengthen your bond. Students preparing for competitive exams will have to put in a lot of hard work to succeed. This week can bring about some alarming situations related to health, so you have to take full responsibility and care.
Tip of the week: keep a watch over your expenditure and health
GEMINI: You are likely to receive auspicious and beneficial results this week. Professionally, you will be able to execute your ideas with proficiency, which will enable you to garner appreciation and recognition from your seniors. You will be able to find creative solutions to problems, which will show you in good light among your colleagues and seniors. Those waiting for promotion for a long time are likely to get it shortly. Businesspeople involved in import-export business may get strong benefits. The stars are likely to bring fresh energy in your personal life, thus providing beneficial results in terms of relationships. It is the right time to expand your social network and adapt quickly. If you are married, then the progress of your children will make you happy.
Tip of the week: Expand your social network
CANCER: This will be a somewhat mixed week for you. You may face some ups and downs and recurrent obstacles at your workplace. You will have put in extra efforts than usual to accomplish your tasks. Some problems with seniors can be foreseen for some of you. Avoid indulging in any kind of office gossip, else it may prove to be counterproductive. In terms of financial matters, try to delay any kind of investment as any hasty decision can prove to be unfavourable later. Also, avoid adding up any kind of loans and liabilities. In personal life, do not argue with your spouse. Also, avoid any kind of financial dealings with your relatives as they may sour the relationship later. Take care of health issues relating to your stomach.
Tip of the week: Avoiding lending or taking money
LEO: Your efforts will be guided and supported by the stars this week. You will get new opportunities which will help you succeed at your workplace. You are likely to meet some influential person which could provide a breakthrough in your career. Those of you working with the government are likely to get transfer orders. This is an auspicious time to expand business. Businesspeople need to be action-oriented and spontaneous. You may undertake journeys that will help you immensely in clearing up your thoughts. Personally, you will receive the affection of siblings. Auspicious events could happen at home. This is a conducive period for socializing as you will get the opportunity to make new connections. If you are single and eligible, then you are likely to find a suitable match.
Tip of the week: Be spontaneous and action-oriented
VIRGO: With self-introspection, faith and good execution, you will be able to turn things in your favour this week. Professionally, you will be progressive and command respect and honour at your workplace. For business personnel, trade is likely to flourish. Some of you might recover your old debts, while some may benefit from ancestral property. In terms of personal life, you are likely to face some ups and downs in your relationship. You are advised to stay calm and not be reactive while dealing with your spouse. Avoid any heated arguments with your family members, otherwise, your relationship with them may get strained. The health of some family members can also be a source of worry for some of you.
Tip of the week: Plan and analyse well before executing anything
LIBRA: Your energy level will be high and your optimism will see you getting favourable results at your workplace. Some of you might also get benefits from senior authorities and the government. Business partnerships will be fruitful and any journeys undertaken to expand business will bear good results. Personally, you will enjoy positive results on the relationship front. Singles have a bright chance to enter into a new relationship. Your relationship with your in-laws will also strengthen, which will have a positive bearing on your relationship with your spouse. You will be blessed with the necessary vitality to fight against any onset of disease and it will also help you to recover from any ongoing illness.
Tip of the week: Maintain your energy and optimism
SCORPIO: This week may bring some tough situations for you which will test you in all aspects of life. Your opponents will remain active and it is advisable to not engage with them at this point of time. Avoid involving yourself in any form of office politics. If you are in business, then quarrels with the partner can happen. Avoid taking any new initiatives or starting new ventures as losses are indicated. In your personal life, some of you might remain worried about the health and well-being of your spouse. Some sort of communication gap can spoil the relationships with your beloved. So, it is advised to choose your words carefully while dealing or communicating with your life partner. In terms of health, you can face problems related to eyes or abdomen.
Tip of the week: Avoid being a part of office politics
SAGITTARIUS: This week, you will receive money from varied sources. Many of you may be able to get a much-awaited promotion. This is also a time when your creative tendencies will be high. Your teachers, mentors or elders will provide you with the much-needed affection and support that is going to be a source of happiness for you. Some of you may also witness an addition in your family. Those married or in a committed relationship will be able to spend quality time with their partner that will help strengthen the relationship with their beloved. Students preparing for competitive examinations have high chance of succeeding in their endeavours. On the health front, you are advised to control your eating habits, especially intake of sweets.
Tip of the week: Be creative in thought and execution
CAPRICORN: During this week, you may spend on your comforts and look to add up your assets through purchase of a property or vehicle. You will get new opportunities to move ahead and progress in your respective professions. You may even get promoted or be given a new role and designation. Financial prosperity is also on the cards for some. Investments done in the past are likely to yield beneficial results, which may lead to an enhanced financial portfolio. Personally, you will be in a happy space. You would like to spend quality time with your spouse and children which will further help in strengthening the bond within the family. Your popularity will be on the rise. Healthwise, you will remain energetic and fit.
Tip of the week: Plan a new career move
AQUARIUS: Those of you working are likely to see an elevation in their role and responsibility. Your communication skills will be very effective which will help you put forth your suggestions with confidence, which will be much appreciated by the seniors. This period also indicates an upward movement in terms of finances. Your business ventures are likely to attract gains. On the domestic front, some auspicious event is likely to be celebrated at home. You may plan a short journey with your beloved. Your relationship with your immediate family will remain cordial and you are likely to spend quality time with your siblings. Your interest towards religion and spirituality may increase. If eligible, you are likely to find a suitable match.
Tip of the week: Use your communication skills wisely
PISCES: This week you are likely to remain on your toes. Professionally, things seem to be a bit edgy. You may be assigned some work that is not according to your potential or your designation and it may lead to frustration within you. This can create certain misunderstandings and arguments with your boss or senior authorities, so, you are advised to remain calm and patient. Financially, you will be able to move slowly. However, there are chances of a sudden spike in your expenditure, so you are advised to control your impulse on overspending. The stars indicate some disturbances in your family life due to miscommunication over a collective issue. Therefore, you are advised to be transparent in your interactions with all family members.
Tip of the week: Adapt to new situations
(Neeraj Dhankher is an astrologer with proficiency in Vedic, KP and Nadi Astrology. He is founder and CEO of Astro Zindagi. The observations are made by the writer based on his own analysis)