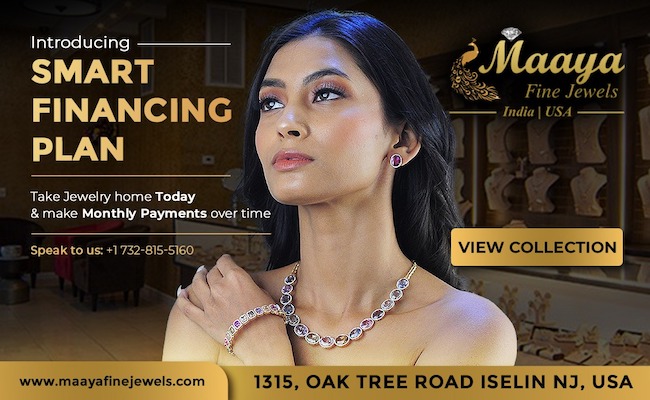 For decades, jewelry has been an auspicious and emotional part of Indian families. As children, many of us can recount countless memories of jewelry store visits with our Amma. In the past, about 15 years ago, Gold Jewelry was in vogue and diamond jewelry was less popular. Today, the trend has shifted towards Diamond Jewelry and off late, Colorstone Diamond Jewelry.
We interviewed Maaya Fine Jewels President and Co-Owner, Nihar Parikh, to get his views on the changing trends. He said, "Gaining knowledge is an integral part of our business. My 70-year-old father, a genius collector of natural gemstones, is still learning! That's the beauty of this business, you gain something every day which allows you to adapt to changes. The more you sow, the more you reap! Gold jewelry is so called, outdated now.
In the last decade or so, we have shifted to Diamond Jewelry and in the last 5 years, Diamond Jewelry with Natural Gemstones. This is the way forward, customers want unique designs, with natural one-of-a-kind old gemstones along with diamonds. They want to be able to wear one piece in 4 or 5 different ways, detachable pendant, changeable stones etc.
To quote my own customers, they are tired of seeing the same kind of designs everywhere, innovation in jewelry designing is what they look forward to and expect at Maaya".
The innovation in Gold Jewelry is limited when compared to Diamond Jewelry. Gold Jewelry is made significantly heavier, detachable combinations are far and few, which doesn't allow customers to enjoy the full extent of the item.
The Millennials and Gen X population want contemporary & stylish jewelry, modern designs for proms, graduations, work conferences and convention gatherings. Outdated Gold Jewelry doesn't cut it for these stylish next generation youngsters!
Speaking of innovation and creativity, Maaya Fine Jewels also informed us about recycling and melting customer's old Gold Jewelry with a reputed firm in Manhattan. They use that melted gold credit as payment towards purchase of Diamond Jewelry.
They also offer financing options so customers can get interest free financing on any of their purchases. We thought that was a great way for customers to convert their old, outdated jewelry into modern, trendy designs along with payment flexibility!
Maaya Fine Jewels is the 8th generation of a Family owned business , manufacturing diamond jewelry for the south Indian Community.
Visit their Grand Showroom in USA
Maaya Fine Jewels
1315 Oak Tree Road,
Iselin NJ 08830, USA
To check out the wide variety of their diamond jewelry collection visit,
www.maayafinejewels.com
www.facebook.com/maayafinejewels
www.instagram.com/maayafinejewels
Content Produced by Indian Clicks, LLC