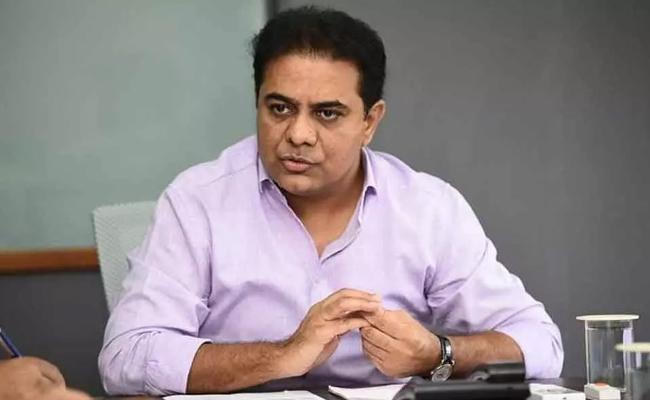 An inadvertent tweet posted by Telangana Rashtra Samithi working president and state IT minister K T Rama Rao in an attempt to claim the great work done by Telangana health care workers in Covid-19 vaccination landed him in a major embarrassment.
On Thursday night, KTR posted two photographs – one supposedly from his own Rajannna Siricilla assembly constituency and another from Khammam, showing healthcare workers administering vaccines to farmers and farm labourers in their own agriculture fields.
"Two pics; one from Khammam District and the other from Rajanna Siricilla district. Whats common to both pictures is the commitment level of our healthcare workers. And the farm revolution ushered in Telangana under the able leadership of Hon'ble KCR Garu (sic)," KTR tweeted.
However, what KTR was not aware that the picture of the farmers taking Covid-19 vaccine in Rajanna Siricilla district actually was that of farmers from Vizianagaram district in Andhra Pradesh.
The same picture was earlier tweeted by a journalist a few days ago, appreciating the good work done by the healthcare workers in Vizianagaram district.
By using the same picture in his tweet and claiming it as the one from Siricilla has naturally been trolled by the netizens.
A BJP leader tweeted: "Vizianagaram is in Andhra Pradesh. When was it merged in Siricilla?? KTR is biggest FAKE news peddler and his party jokers have audacity to call others as FAKE. Tweeted pic on Sep 12 is used by KTR on 24th September. Just to boost his Twitter image. #ShameOnKTR."
AICC general secretary in-charge of Telangana Manickam Tagore also tweeted similarly within minutes.
"Koduku Minister still in other world. Claims the neighbouring state Andhra Pradesh success as theirs… How many years you cheat Telangana with Photoshpped images? Will he say sorry and accept his mistake?" he tweeted.
Naturally, KTR felt that somewhere something has gone wrong with his report. He made a desperate attempt to defend his earlier tweet saying that he had taken the pictures from the newspapers – one from Eenadu and another from Sakshi.
"These are the two news items from Eenadu & Sakshi that I had used for my tweet above. It is a fact that Telangana Healthcare workers have been doing a terrific job and let's appreciate them," KTR tweeted again to cover up his earlier goof-up.
So, the TRS leader threw the blame on Eenadu for using the picture of farmers in Vizianagaram district and showing it as the one that happened in Rajanna Siricilla district. But the damage has already been done in the form of trolling!
Click Here for Latest Direct-to-OTT Releases (List Updates Daily)