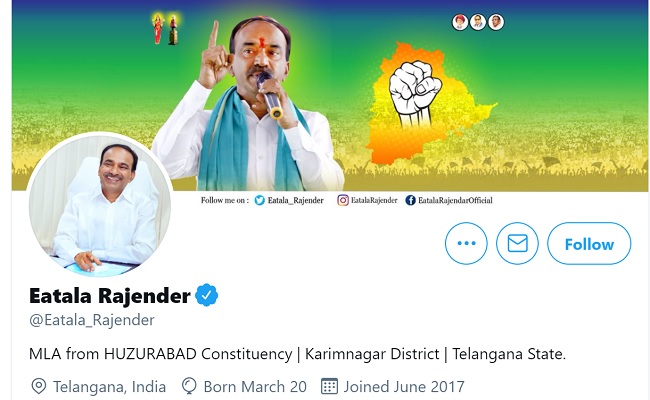 Strange are the ways of sacked Telangana health minister Eatala Rajender, whose days in the Telangana Rashtra Samithi, have almost been numbered.
It is only a matter of time that he would either be sacked from the TRS or he himself would quit the party.
But so far, Rajender has not given any indication as to what his future plans are. He has been meeting every leader from every party – the Left parties, the Congress and the Bharatiya Janata Party.
He has not been giving any hint as to which party he would join. At the same time, he has also not been giving any indication as to whether he wants to float a new political party to take on the TRS led by chief minister K Chandrasekhar Rao or be an independent leader.
Amidst this confusion, Rajender came up with a lot of changes in his Twitter profile, giving rise to a lot of speculations. In the profile, he is seen wearing a blue scarf, beside a Telangana map with a closed fist embedded in it.
The map has a saffron colour, apparently indicating pro-Hindu sentiment. At the same time, there is an image of Telangana Thalli and Telangana Martyrs' Memorial Stupam, reflecting the Telangana sentiment.
The Twitter profile also has the images of Dr B R Ambedkar revered by Dalits, Jyotiba Phule who is the voice of Backward Classes and that of Prof Jayashankar, the champion of separate Telangana. There is also an image of the people of Telangana fighting for the state.
And Rajender has seen to it that there is no place for pink in the entire picture posted in his profile.
"This might be an indication to Rajender's plan to float a new party, but he has not come out with any such announcement yet and has not even given any such hint. So, it is still confusing as to what he is going to do," an analyst said.
Click Here for Latest Direct-to-OTT Releases (List Updates Daily)