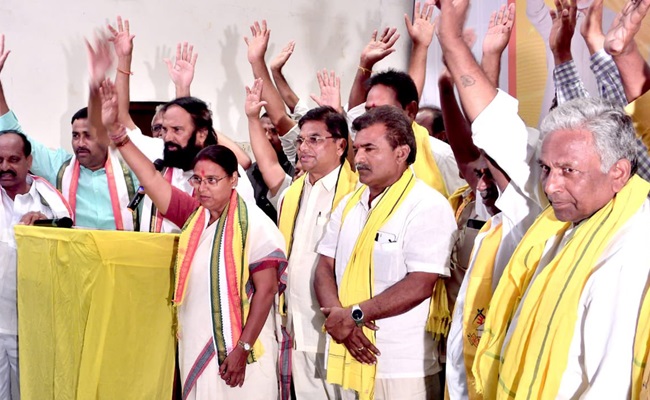 There have been suspicions that the Telugu Desam Party led by former Andhra Pradesh chief minister N Chandrababu Naidu, has withdrawn from contest in Telangana assembly elections only to help the Congress party led by his close confidant A Revanth Reddy.
Lending credence to these suspicions, some Congress candidates, especially those in erstwhile Khammam and Nalgonda, are attending TDP meetings and seeking their support.
For example, at Khammam, Congress candidate Tummala Nageswara Rao attended a TDP meeting in the constituency by sporting a TDP scarf. A video of Tummala attending the TDP supporters' meeting with yellow scarf around his neck has gone viral.
Tummala was heard saying: "My victory will be a significant milestone in Andhra Pradesh politics. I am indebted to this (TDP scarf) in my life and I wish the yellow flag is hoisted on Telugu land…"
He was seen making these statements with Congress and TDP leaders on the stage.
In a similar meeting at Kodad, Nalgonda MP N Uttam Kumar Reddy also attended the programme of TDP followers and is learnt to have sought their support. Uttam Kumar Reddy's wife N Padmavathi Reddy is the Congress candidate from Kodad.
The stage was decked with TDP banners and posters of former Chief Minister N Chandrababu Naidu. The Nalgonda MP and his wife spoke at the meeting and the audience was a blend of TDP and Congress leaders.
Images and videos of Congress leaders sporting TDP scarfs and participating in the party meetings have gone viral on social media platforms.
The nexus between the TDP and Congress is leaving voters perplexed. In the 2018 elections, the TDP and Congress had an alliance along with Telangana Jana Samithi and CPI in the state. This time, it appears to be indirect.